Bill Larson and Officer Jim Knoll of the Clarksville Police Department contributed to this story.

Clarksville, TN – On December 15th, 2012, the Clarksville Department in conjunction with the Clarksville Police Union and Fraternal Order of Police made the holidays much brighter for 210 local children by sponsoring the children to a holiday shopping spree at one of the three area, Walmart Supercenter's.  The Police Union and Fraternal Order of Police spent over $20,000 to ensure these kids would have a Christmas to remember.
"In these tough economic times when we have so many parents being laid off or losing their jobs as companies downsize; for some of these children, this will be their only Christmas," said Tyler Barrett,  President of the Clarksville Police Union.  "We reached out to these families and try to assist them and make sure that their children are able to have the Christmas they deserve."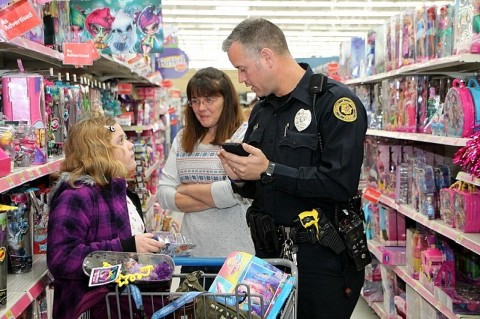 The families were selected by the guidance counselors at four local elementary schools who each nominated 10 families to take part in the program. "The guidance counselors in these schools generally know who the most needy children are," said Barrett. They also worked with the Clarksville-Montgomery County Community Action Agency, which runs the head start program; who nominated another 40 families. Finally nominations were accepted from Clarksville police officers who are a part of the Clarksville Police Department's Community Policing Program.
The families were allotted $100.00 per child which could be spent on clothing and toys. Purchases ranged from warm winter clothing, coats, and shoes; to toys and bicycles. One little girl had done her research before hand and had an entire collection of Barbie bolls and accessories picked out. Clarksville Police officers were on hand to assist the kids with their shopping.
The Walmart in Sango allocated two lanes to ring up the purchases and Melanie and Stephanie manned one of the registers, while Nancy and Lanise handled staffed the second one. Together, they rang up well over 5,000 individual items.
"He comes in here all the time, this man does a lot to the community," Melanie said, referencing Officer Barrett."It was not even three months ago he was here getting warm winter clothing for the kids,"  she said,  referencing the back to school shopping spree for needy families the Police Union sponsors each fall. They also sponsored  20 Baseball and two football teams this year.
After the families had completed checking out many of the children and some of the parents walked up and hugged the police officers who were standing together nearby; personally thanking them for what they did for them and their families.
The funds for these programs come from donations from throughout the Clarksville community. "I would really like to thank the community for supporting this program!" said Barrett. "What we do  wouldn't be possible without the businesses and citizens of Montgomery County stepping up and giving from their heart. Through the support of the community. We are able to give these children and their families positive interactions with Clarksville's Police Officers."
If you wish to donate to help the Clarksville Police Union reach out to area children. You can contact Officer Tyler Barrett at 931.980.7472. Or they can make a check out to the Clarksville Police Union and mail it to P.O. Box 1863, Clarksville, TN 37040.
Photo Gallery