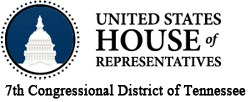 Washington, D.C. –  Tennessee Congressman Marsha Blackburn has been busy working on new legislation ahead of Congress reconvening on January 14th, 2013.

After working through the so called "Fiscal Cliff," which Blackburn voted against, the congressman plans to introduce the "Stop Mergers, Acquisitions, and Risky Takeovers Supplied by American Labor and Entrepreneurship Act of 2013," or "Smart Sale Act.

The SMART SALE Act will require companies that receive federal funding from the Department of Energy for innovative research to report if they are being acquired by a non-allied foreign nation, and require the Secretary of Energy to report to Congress about whether the acquisition represents a threat to the United States.

This legislation also requires the development of a repayment plan for any grants or loans issued to the company by the Department of Energy.

"This legislation would protect U.S. taxpayers from repeatedly funding companies whose technology and intellectual property are ultimately sold to a non-allied nation." Blackburn said. "Given the state of our economy, the American people deserve accountability and proper Congressional oversight of taxpayer funds. We have repeatedly witnessed our tax dollars wasted on so-called stimulus projects that have ended in bankruptcy. Even worse, we now have a situation where not only has A123 landed in bankruptcy proceedings but their taxpayer funded technology could be handed over to the Chinese government. We owe it to the American people to, at a minimum, scrutinize potential acquisitions to assess the threat to the United States and the loss of taxpayer funded intellectual property."

The recent failures of companies funded with stimulus money, such as Solyndra, Beacon Power and A123, call into question the ability of the Department of Energy to reliably oversee innovative technology development.

The potential acquisition of A123 by a Chinese company risks sending hundreds of millions of dollars of taxpayer-funded research to a foreign competitor. This legislation will ensure that the Secretary of Energy is actively monitoring taxpayer funds and creates an opportunity for Congress to review and comment should any transactions occur.



Sections
News
Topics
7th Congressional District of Tennessee, Congress, Fiscal Cliff, Marsha Blackburn, Tennessee, United States, Washington D.C.