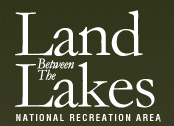 Golden Pond, KY – Do you have cabin fever? Warmer weather is just around the corner! With the help of the public, Land Between The Lakes (LBL) National Recreation Area has made some changes that offer a few more opportunities for outdoor recreation in 2013.
Now there are even more places to use a Backcountry Camping Permit. A weekend of camping will cost less at Smith Bay and Birmingham Ferry Campgrounds since they have been converted to Backcountry Camping Areas.
"We want our visitors to know the same range of recreational opportunities still exist at LBL. There is something for everyone. Some areas have been closed or repurposed to align ourselves with our budget reduction requirements. In a few areas, fees have been increased. Public comment played an integral part in the decisions that were made. These choices were difficult to make, but the actions will help Land Between The Lakes continue to provide quality programs and services to our customers by operating more efficiently," said Brian Beisel, Acting Area Supervisor at Land Between The Lakes.
Another new recreational opportunity is the opening of 8,500 acres to day-use, known as the Northern Nature Watch Area. This area is located east of the Woodlands Trace National Scenic Byway near Woodlands Nature Station and Taylor Bay, just off of Mulberry Flat Road (FS RD 135). This area is teaming with wildlife viewing opportunities by land and by water so bring binoculars and a camera!
Rushing Creek and Jones Creek Campgrounds have been closed to camping and vehicles due to budget reductions in maintenance as well as reduced visitation. However, Jones Creek Boat Ramp will remain open.
The 2013 season will begin on March 1st. Be sure to visit the official website at www.lbl.org under Alerts and Notices for a full list of fee changes and other new information.
Come Outside and Play at Land Between The Lakes National Recreation Area. Managed by the Forest Service, U.S. Department of Agriculture, Land Between The Lakes provides outdoor recreation, lake access, and environmental education for the public to enjoy.
Visitors are encouraged to review the official website at www.lbl.org often for Calendar of Events, updates on programs and policies, safety information, maps, temporary trail and road closures, and additional information, or call 800.LBL.7077 or 270.924.2000. Follow LBL on Twitter @LBLScreechOwl or @LandBtwnLakes.