Clarksville, TN – On February 2nd, 2013, around 2:00am, Clarksville Police Officer Arthur Bing, 28 was traveling south on Fort Campbell Boulevard in a 2008 Crown Victoria responding to a business alarm activation.
A 2003 Chevy Trailblazer, driven by Jessica Sheppard, 20, who had learners permit, was traveling north on Fort Campbell Boulevard and turned in front of the patrol car.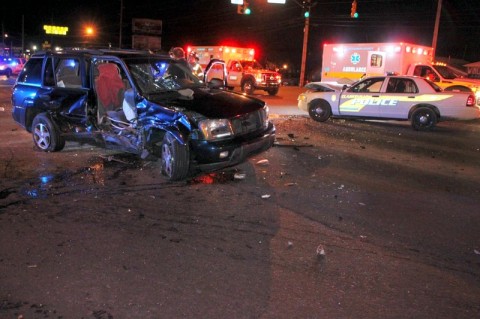 Sheppard was making a left turn from Fort Campbell Boulevard onto Quin Lane, and failed to yield to the oncoming patrol car. The patrol car collided with the passenger side of the Trailblazer.
The driver of the Trailblazer, Jessica Sheppard, was treated and released at the scene for non-life threatening injuries.  She declined transport by EMS.
Officer Bing had right arm, hand, and wrist pain but was not transported by EMS. Jessica Sheppard was uninjured.
Jessica Sheppard was cited for Failure to Yield and Seatbelt violation. Alcohol is not believed to be a factor.
The lead investigator is Sgt Mike Caver.
Photo Gallery