APSU Sports: Austin Peay Women's Softball

Auburn, AL – Junior Lauren de Castro limited East Tennessee to five hits in picking up her third career shutout, Saturday morning at the Plainsman Invitational, as the Lady Govs defeated the Lady Bucs 5-0 before falling to Army 10-3 in the nightcap.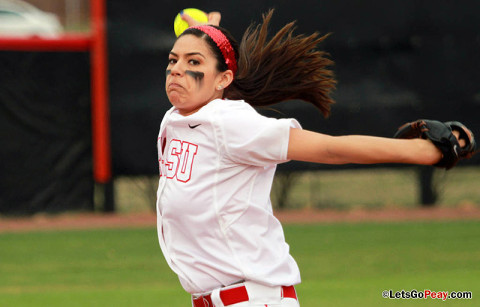 Austin Peay (1-1) would get on the board in the top of the second inning, on the first of its two home runs versus the Lady Bucs (0-3), as freshman Mel Pavel blasted a 1-1 pitch off the scoreboard in left-center field to put the Lady Govs up 1-0.
That would be all the runs that Austin Peay would need with de Castro only allowing four singles and a double to East Tennessee, while striking out two and walking none.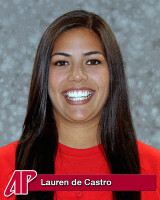 A throwing error by East Tennessee shortstop Samantha Carpenter — off an infield chopper by freshman Marissa Lake — opened the door for the Lady Govs in the top of the third inning, with de Castro tripling off the right field wall a batter later to drive in Lake while de Castro scored off a double to left field by junior Kayla Davidson to make it 3-0.
The score would remain that way until the top of the sixth inning, when Austin Peay would add two insurance runs on a two-run homer over the left field wall by senior Jessica Ryan — which also scored senior Shelby Norton – who led off the inning with a double down the left field line.
The home run by Ryan gives her 16 round trippers in her career, tying her with Ashley Taylor (2007-09) for the fourth most in school history.
Sophomore Laurel Burroughs also recorded a double for the Lady Govs, while de Castro finished with three hits – which increases her career total to 100 career hits, the 29th Lady Gov to reach that milestone.
Things didn't go as well for the Lady Govs in Game 2, as Army (1-2) jumped on senior pitcher Morgan Brewer for three first inning runs.
But Austin Peay would battle back to make it 3-2 in the top of the third inning on a two-run homer by Burroughs, which also scored Ryan who had reached on an error.
The Lady Govs tied the game 3-3 in the top of the fifth inning on a single up the middle scoring de Castro from second base, but Army would respond with four runs in the bottom of the fifth inning to retake the lead 7-3.
The Cadets would salt the game away with three more runs in the bottom of the sixth for the 10-3 final margin.
Burroughs finished Game 2 with three hits, while de Castro added two hits. Ryan had a double.
The Lady Govs wrap up the Invitational Sunday with a 9:00am contest versus Furman and a 2:00pm tile against host Auburn.