Clarksville, TN – On February 25th, 2013 around 9:00pm, Clarksville Police Officers responded to multiple calls of shots fired at the K building of the apartments at 2190 Memorial Drive.
When officers arrived they found Anthony Rhodes, 42, had been shot in the neck inside of apartment K-155. He was transported to Gateway Medical Center by ambulance, treated, and released. The investigation was turned over to Detective Kagan Dindar.
Based on witness accounts, Detective Dindar determined the victim got into a verbal altercation which turned physical with an individual nicknamed "Bobo", later identified as Henry Shannon. The argument stemmed from Rhodes not helping around the apartment.
Rhodes is the boyfriend of Shannon's mother and lives at apartment K-155 with her. At some point during the altercation Rhodes had been shot by Shannon. Witnesses heard the gunshot and saw Shannon holding a gun.
Additionally, there was a two year old child inside of the residence when the shooting took place. Shannon had fled the scene prior to officers arrival.
There was a warrant taken out on Henry Demetrius Shannon for Aggravated Assault.
The lead investigator is Detective Kagan Dindar.
He should be considered armed and dangerous. If spotted call 911. Anyone with information can call the TIPSLINE, 931.645.8477.
Wanted: Henry Shannon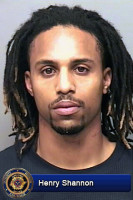 Name: Henry Demetrius Shannon
Race: B
Gender: M
DOB: 12/10/90
Given Address: 3538 Sandpiper Drive, Clarksville, TN
Wanted For: Aggravated Assault
Bond: $150,000.