APSU Sports: Austin Peay Women's Track and Field

Nashville, TN – Senior Chantelle Grey took home top honors in the women's 800m run in Austin Peay State University women's track and field teams outdoor season-opening event at the Vanderbilt Black and Gold, Saturday, at the Vanderbilt Track Complex.
Grey's 2:09.03 mark was more than a second ahead of her nearest competition, which featured runners from Louisville, Memphis, Michigan and Vanderbilt, among others. It marks Grey's second consecutive sub-2:10 mark, after she finished the 800m at the Alex Wilson Invitational in 2:08.12.
"Chantelle hung back a little bit and broke on the back stretch," said head coach Doug Molnar. "She set the meet record and looked great doing it."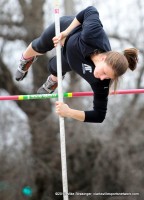 Grey also ran the a leg of the Lady Govs 4x400m relay; she joined freshmen Breigh Jones, Kymmalett Ross and Taleor Slaughter in a 3:52.26 run, taking runner-up honors behind Miami (Ohio).
Sophomore Erika Adams was one of three competitors to earn a ninth-place finish in the 100m dash, with her career-best 12.34 mark bettering any result a Lady Gov had in that event in 2012. Sophomore Natalie Olberding's 1:03.56 mark in the 400m hurdles also was better than any outdoor mark by a Lady Gov in 2012; she finished eighth overall.
"Natalie came out of the slower heat and was phenomenal," Molnar said. "She'll be a force to contend with during outdoor season. Erika had personal-bests in the 100 and 200; she really got out to a good start."
Junior Xiamar Richards placed 12th in the 3000m run, with her 10:11.13 mark bettering her all-time best by nearly three seconds.
In pole vault action, senior Nicole Bressner finished seventh behind a 3.16m (10' 4.25") mark.
"We were a little slow out of the gate," said head coach Doug Molnar. "We came back and had a lot of good marks, which is nice for the first race out of the break. I was really pleased with how we performed after the lay-off."
The Lady Govs host the APSU Invitational, Saturday, at Governors Stadium.
Photo Gallery