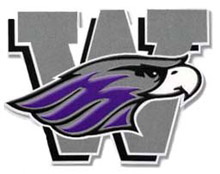 Clarksville, TN – You've probably never heard of the University of Wisconsin-Whitewater. The school is part of the University of Wisconsin system, located in the city of Whitewater Wisconsin. Athletically, they compete at the Division III level.
With an enrollment of over 12,000 students, some of their alumni include the late comedian/actor John Belushi; Benjamin T. Mueller, contributing author for the Chicken Soup Series; U.S. Congressman Mark Neumann; and former NFL football players Stuart Rindy, Pete Schmitt and Dave Kraayeveld.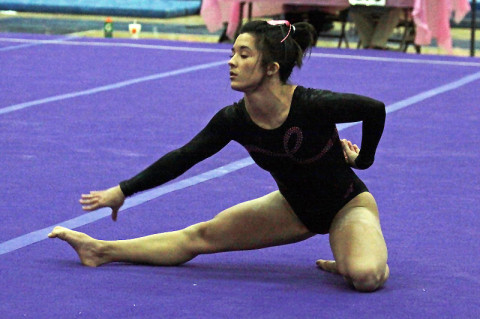 Wisconsin-Whitewater is also the home of the 2013 Division III National Championship Gymnastics team. Two members of that team are from Clarksville Tennessee.
Meet Hannah Lee and Steffi Heuer.
This is their story of accomplishment, sacrifice, pain, and commitment to a sport that requires intricate precision and a passion for excellence. It's also the story of how gymnastics taught them some of life's most important lessons.
When Hannah Lee was just four years old, she and her mother were watching gymnastics on television and Hannah pointed to the TV and said, "I want to be a balancing girl," and from that moment, her life would change forever.
Steffi Heuer became interested at the age of 7, because, as she told her mother, "I want to do all that flipping like they do."
Hannah is the youngest of three children of Kris and Tim Lee, a military family who retired in Clarksville.
A 2012 graduate of Clarksville High School, Hannah's family has supported her every "flip" of the way, and like most parents, they're extremely proud of their "balancing girl."
"She's been competing since she was 6 years old," said her mother Kris. " When we first took her to the gym, they asked her to do a cartwheel, so she did. They said they'd never seen someone that young do that. That's when this journey began."
"Like any parent, you want your kids to be involved in things that are positive and things they enjoy doing, whether it's sports or anything else," said Tim. "She was just a natural at gymnastics, so we poured our heart and soul into it for her."
"Gymnastics is why she is such a great person today," said Kris. "She is so much more than an athlete. Her grades are great, she's in great shape, and she's become a wonderful woman."
"The discipline and commitment necessary to compete at such a high level has made her a great person," said Tim.
Steffi's parents, Brian and Deneen, share the same opinion of what the sport has meant to their daughter.
"We took her to some recreation classes when she was little, and it became clear at an early age that she had some talent," said Steffi's father, Brian. "She moved up quickly through the various levels of accomplishment. Gymnastics gave her more confidence. It brought out her personality."
Her mother Deneen said, "She's always been a tumbler, so it wasn't a surprise that she would be really good at gymnastics. It was something she could be a part of. It taught her discipline and kept her focused on something positive."
Steffi graduated from Austin Peay State University Middle College before heading to Whitewater last year.
Most of us are only familiar with the gymnastics we see during the Olympics, and are amazed at the ability of these athletes. It takes years and years of hard work, pain, frustration, and practice to become an elite gymnast, most of whom never make the national stage. The sport gets very little publicity, and the athletes and their families form bonds that last a lifetime.
Gymnasts give up a normal childhood, doing the things that most kids do. They spend all of their free time in the gym. The gym is their home, and their fellow gymnasts and coaches are their family.
"It's a sport that requires a significant amount of passion," said Hannah. "Four to five hours per day in the gym. You don't have a normal life. There's no time for boys, or social events. I have no regrets," she said.
"I quit for three years, and looking back, I regret it," said Steffi. "I regret quitting to be 'normal.' The gym is my home, it's my family, and I missed that. The feeling you get and the rewards that come with hard work was something I missed."
When Steffi returned to the gym, she quickly got back into competitive shape.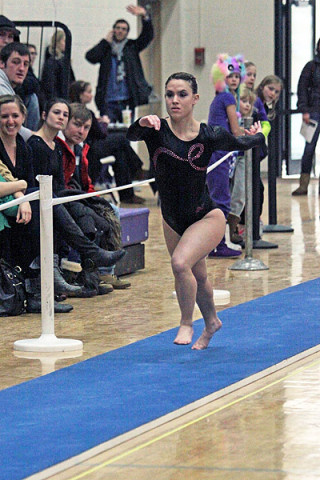 Hannah and Steffi both trained under the watchful eye of their coach, Larry Corrigan, who owns Clarksville Elite Gymnastics Center. Corrigan turned to gymnastics after a very stressful military career–he needed an outlet to relieve that stress.
Corrigan attended seminars, coaching clinics, and studied the sport to become a top notch instructor. He would help with summer camps, and read everything he could get his hands on to become an expert in the sport. He's had a direct impact on the lives of hundreds of Clarksville area kids.
"Larry is part of our family," said Hannah. "When you spend so much time at the gym, we share everything. He pushes us to be better, and encourages us when we don't feel like practicing."
Steffi echoed,"Larry is a special person in my life. When you spend that much time with a group of people, they become part of your family."
"You've got to have the physical tools to compete in this sport," said Corrigan. "To be a champion, you have to avoid all the distractions that come along in a young person's life. When these athletes get to the college level, there are very few slots available, so they have to be some of the very best competitors to make the team. It's a demanding sport with lots of injuries and very few kids make it to this level. They just get burned out, and don't want to do it anymore."
Oddly enough, injuries have not been that much of a problem for Hannah and Steffi, although, it was a freak accident that took Hannah out of gymnastics for a bit, and Steffi was sidelined this year with ankle injuries and couldn't compete at the national championship.
"I was trying to adjust the vault table when it collapsed on my hand and crushed it," said Hannah. "It caused me to miss a lot of practice while my hand healed. Pretty crazy that I wasn't sidelined due to anything that happened while I was competing, or practicing."
Steffi competed throughout the championship season, but was not able to participate at the national competition, which was disappointing. "I was hurt and not able to compete, but we train and compete as a team. Our coach tells us, 'We are one,' so I was excited for my teammates. I'll be ready next year, and look forward to competing for another title."
"Hannah's number one attribute is her toughness," said Corrigan. "I remember when she hit her head once and busted it wide open and the first thing she asked was if she could finish practice. She also busted a tooth out while performing a vault, and it was her first attempt, so naturally, missing tooth and all, she wanted to know if she would get her second vault," Corrigan said. "She's tough."
"Steffi is one of the best beam kids I've ever coached. She's a natural at it," stated Corrigan.
The connection to Wisconsin-Whitewater and its amazing gymnastics program began when Larry's daughter, Lauren, was competing.
"They have an amazing program there,"according to Corrigan. "These kids who make it this far need somewhere to go and compete, and my gym has been fortunate enough to train a number of athletes who have gone to Whitewater. Their coach, Jennifer Regan, is an amazing person."
"When he came to visit with his daughter several years ago, Larry bought a school jacket, and I knew we had more than just a dad, we had a fan," according to coach Regan.
Regan goes on to describe her girls from Clarksville:
"Hannah is a very talented young lady. She's a coach's dream. She works hard, and never complains. I don't think she's reached her potential. We haven't seen the best in Hannah yet."
"Steffi just works-works-works. She and Hannah are similar in that they have an enormous amount of talent that hasn't been tapped."
Coach Regan has been at Whitewater for 11 years and this is her team's second National Championship. They've won three of the last four conference championships and have 19 girls on the team.
"These girls are like my second family," said Regan. "Our goal is to keep them in school, get their degree, then get out in the real world with the life skills necessary to be successful. It's a real blessing to have these girls in my life."
Hannah and Steffi are reaching the end of their gymnastics career. Once they graduate, their competitive days are over, but the rest of their lives are just beginning. The long hours in the gym, the sacrifices, the pain–it all pays off in the end.
And a National Championship ain't so bad either.
Editors Note: Special note of thanks to Tom Fick at UW-W.