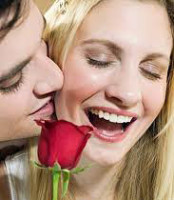 Clarksville, TN – Extended eye contact, suggestive comments, double entendres…yeah, I did that.
Some say flirting is okay, even healthy, that it keeps there marriage on its toes.
I disagree and here's why. When I flirted with men during my first marriage, it was because I was unhappy. I was lonely. I wanted approval from others. I risked my female relationships for this approval at times, not to mention my self-respect.
Flirting made me feel better for a little while; but the problematic marriage was still there, falling to pieces. Flirting led to unwanted advances. I really just wanted attention. This is the crux of why many people think flirting is okay.
It gives you an adrenaline rush that you can take home to your spouse. But what if you don't? It hurts. When our spouses see us carrying on with other men or women,  they are often embarrassed and usually hurt. They want and need our attention.
What I do now instead of flirting
Flirt with my husband!
Send him flirty text messages or funny emails to let him know I am thinking about him.
Write him love letters.
Take him lunch to work when it is "out of my way."
Do a chore for him that is time consuming so we have more "alone time."
Bring home a yummy bottle of wine.
Avoid anything that could be considered flirting with another man. I make sure I have my tone and body language in check. I let my husband know if I have said anything that could have been taken wrong, or if anyone has "flirted" with me. I love my husband: I don't want to make a fool out of him, or myself.
There is always a man or woman out there who will be happy to flirt with you, but these flirtations are damaging to a marriage and to the love and respect that God commands for all marriages. Flirting can also lead to cheating.
The best thing I ever did for me and my marriage was to get involved in church and start a genuine relationship with God. This was the key to fulfillment. I no longer needed the approval of everyone. Now, I want to please my husband and my God. That's more than enough to achieve in one lifetime.
What are the rules for flirting in your relationship?
About Kris Wolfe
Kris Wolfe is a Christian, wife and mother. Kris is a freelance writer who focuses on spiritual and practical encouragement. Kris also writes lessons for small group purposes for churches and is a small group coach.  Kris has a master's degree in Biblical Counseling from Luther Rice University and Seminary and is a listed TN Supreme Court Rule 31 Mediator.

Kris covers topics such as dating, marriage, parenting, divorce, post-divorce recovery, and the blended family.

Read more from Kris Wolfe at MorningGloryDevo.com or follow on Twitter @MrsKrisWolfe

Web Site: http://www.morningglorydevo.com/
Email:
Sections
Spirituality
Topics
Clarksville TN, Marriage, Relationships