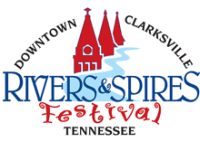 Clarksville, TN – The first day of the Rivers and Spires Festival opened with spring rains threatening, which prompted festival organizers to move up the start of the festivities. This allowed the evening to conclude before the weather struck.
The early start didn't dampen the spirits of the crowd drawn to downtown to enjoy the top notch musical entertainment. Cowboy Mouth was certainly the most popular performer as the crowd was drawn in droves to the edge of the Public Square Stage.
The Chamber of Commerce and Clarksville Young Professionals held their annual Get DOWNtown networking event adjacent to the Public Square Stage. Hooter's Girls were on hand to help serve food and beverage to the attendees.
Several vendors were on hand along with the Oscar Mayer Wienermobile. In the City Hall Parking lot inflatables were available to keep the kids entertained.
This was a great kickoff to the 2013 Rivers and Spires Festival and only whets the appetite for the remaining days of the free downtown Festival.
Photo Gallery