Montgomery County, TN – The latest business to become Clarksville-Montgomery County Green Certified is Hendrickson.
Hendrickson's Montgomery County location is a leading global manufacturer of medium and heavy-duty truck suspensions. The company has been working on energy saving initiatives since 2010 and continues to seek opportunities to conserve where it can.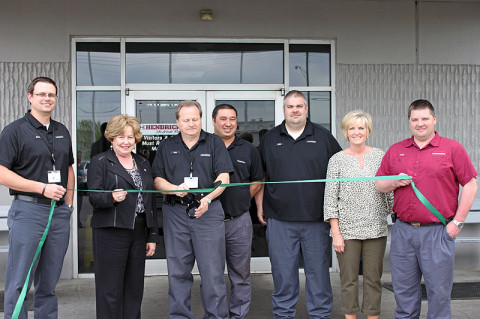 While at the facility, Hendrickson's Plant Manager Kirk Steer, shared with Montgomery County Mayor Carolyn Bowers, Phil Harpel and Chamber of Commerce Vice President Melinda Shepherd that the plant's production is at an all-time high. "We started production here in 1998 and we've had some good years but recently we've hit our highest demand for volume so far. I'm very pleased," said Steer.
Bowers told Steer she was glad Hendrickson was thriving and was also enthusiastic about the growth and expansions of the other industries in the area as well as the completion of the new Tennessee Technology Center facility.
"I'm thrilled Hendrickson is doing so well and grateful that you have also taken initiatives to conserve and help keep our local environment healthy," said Mayor Bowers.
When asked what initiatives they took to earn CMC Green Certification, Hendrickson's Manufacturing Engineer Manager, Robert Perrin, touted a list of changes that included; converting from using wood pallets to reusable metal containers, transitioning from hazardous to non-hazardous disposal of shot dust waste, reducing the amount of energy used and providing better circulation by installing giant ceiling fans, returning toner cartridges rather than disposing of them, retrofitting to more energy efficient lighting, using metal brackets to separate the suspension systems when they are shipped rather than using wood blocks that were once disposed of as wood waste, recycling all paper waste with Bi-County and transitioning from Styrofoam to reusable cups for employees.
"We have plans in place for continued improvement in the future," said Perrin.
Steer also stated that Hendrickson will be working to involve employees more by encouraging them to do some of the same practices in their homes. Bowers thanked them and encouraged them to keep up the great work.
Hendrickson is celebrating its 100th year in business with locations throughout the world. The Montgomery County location employs approximately 400 people and is located in the Clarksville-Montgomery County Industrial Park. To find out more about Hendrickson visit http://www.hendrickson-intl.com/Home.aspx .
For information on how your business can participate in the CMC Green Certification Program, contact Michelle Newell at manewell@mcgtn.net