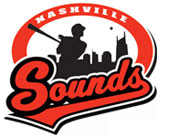 Nashville, TN – The Nashville Sounds snapped their four-game losing streak in a big way on Saturday evening at Greer Stadium, defeating the division-leading Omaha Storm Chasers, 11-5, in the opener of a four-game series.
Nashville (5-9) erupted for season highs of 11 runs and 14 hits in the victory. Cole Garner highlighted the offensive outburst with a seventh-inning grand slam, the outfielder's team-leading fourth home run of the year. Scooter Gennett added three hits and three runs scored for the Sounds.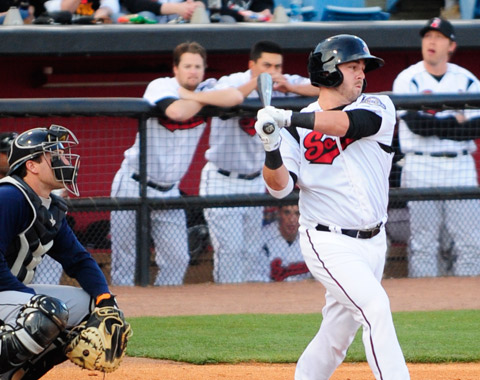 Despite the offensive outburst, the run total could have been higher as Nashville left a season-high 11 runners on base, including stranding the bases loaded three times.
The two new additions to the Sounds roster also provided solid contributions in the victory. Starting pitcher Mike Fiers tossed four scoreless frames and rehabbing infielder Jeff Bianchi went 2-for-4 with a pair of RBI singles.
After the Storm Chasers left the bases loaded in a scoreless top of the first against Fiers, the Sounds got off to a quick start against Omaha Brian Sanches, grabbing a 2-0 lead in the bottom of the frame.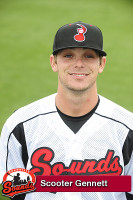 Gennett led off with Nashville's first triple of the season, a shot off the base of the right field wall. Bianchi followed with an opposite-field RBI single that stayed just inside the first base bag to stake the home team to a 1-0 advantage. After Hunter Morris drew a walk, and Sean Halton popped out, Stephen Parker drilled an RBI single back up the middle to double the lead.
Nashville increased the lead to 3-0 in the third when Sean Halton led off with a double and later scored on Caleb Gindl's sacrifice fly. Fiers worked into and out of another bases-loaded jam in the fourth inning, fanning Irving Falu to keep the 3-0 lead intact. The Sounds offense kept churning in the home half of the fourth, opening the inning with four straight singles to plate a pair of runs and chase Sanches from the contest in the process.
Blake Davis led off with a knock before Gennett laid down a well-placed bunt single up the third base line and Bianchi followed with an RBI single through the left side of the infield that ended Sanches' evening. Morris greeted Omaha reliever Atahualpa Severino with an RBI single through the right side of the infield that plated Gennett, who made a nice evasive slide at the plate to avoid the tag of Storm Chasers catcher Adam Moore and upped the lead to 5-0.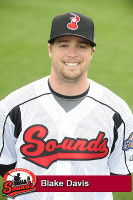 Fiers allowed two hits over four scoreless innings in his first Triple-A start of the year, taking a no-decision. He walked four batters and struck out six in his 70-pitch effort.
Jesus Sanchez (2-0) picked up his second win of the year for the Sounds by working two scoreless frames behind Fiers.
Sanches (1-1) drew his first loss of the year after giving up five runs on eight hits in his three-plus innings of work.
The Sounds tacked on two more runs in the sixth against the Omaha bullpen to extend the lead to 7-0. Morris drew a one-out walk from George Sherrill and scored on the Halton's team-leading fourth two-bagger of the year and second of the night. Later in the frame, the Sounds loaded the bags against Francisley Bueno and De La Rosa delivered a two-out RBI single to right to plate Nashville's seventh run of the night.
Garner put icing on the win in the seventh when he connected on his two-out grand slam against Bueno to up the lead to 11-0. The slam ended a stretch of 177 consecutive bases-loaded at-bats for the Sounds without a homer since Taylor Green went yard on July 10, 2011 at Albuquerque.
Omaha scored the game's final five runs, plating three unearned scores in the eighth against Kyle Heckathorn following a pair of Sounds errors and adding two in the ninth off Johnnie Lowe.
The teams continue the series with a 2:05pm matinee on Sunday afternoon. Right-hander Tyler Thornburg (0-1, 5.40) will man the bump for the Sounds and face Omaha southpaw Chris Dwyer (2-1, 3.00).
Box Score
Omaha Storm Chasers (9-7) 5, Nashville Sounds (5-9) 11
April 20th, 2013
| Final | 1 | 2 | 3 | 4 | 5 | 6 | 7 | 8 | 9 | | R | H | E |
| --- | --- | --- | --- | --- | --- | --- | --- | --- | --- | --- | --- | --- | --- |
| Omaha Storm Chasers | 0 | 0 | 0 | 0 | 0 | 0 | 0 | 3 | 2 | | 5 | 8 | 2 |
| Nashville Sounds | 2 | 0 | 1 | 2 | 0 | 2 | 4 | 0 | x | | 11 | 14 | 2 |
BATTING
TB: Moore, A; Seratelli; Giavotella; Lough 3; Colon, C; Nady.
RBI: Nady 3 (10), Ramirez, M (8).
2-out RBI: Nady 2.
Runners left in scoring position, 2 out: Moore, A 2; Falu 2; Ramirez, M.
GIDP: Falu.
Team RISP: 2-for-9.
Team LOB: 9.BASERUNNING
CS: Lough (3, 2nd base by Sanchez, Je/De La Rosa, A).FIELDING
E: Colon, C (4, fielding), Tracy (1, missed catch).
BATTING
2B: Halton 2 (4, Sanches, Sherrill).
3B: Gennett (1, Sanches).
HR: Garner (4, 7th inning off Bueno, 3 on, 2 out).
TB: Garner 5; De La Rosa, A 2; Bianchi 2; Halton 4; Gennett 5; Parker, S; Davis, B; Morris, H.
RBI: Bianchi 2 (2), Parker, S (3), Gindl (4), Morris, H (7), Halton (6), De La Rosa, A (1), Garner 4 (11).
2-out RBI: De La Rosa, A; Garner 4.
Runners left in scoring position, 2 out: De La Rosa, A 3; Morris, H; Gindl 2; Davis, B 2.
SF: Gindl.
Team RISP: 8-for-20.
Team LOB: 12.BASERUNNING
SB: Gennett (3, 2nd base off Sanches/Moore, A).FIELDING
E: Gennett (2, fielding), Bianchi (1, fielding).
DP: (Bianchi-Gennett-Parker, S).
Sanches pitched to 3 batters in the 4th.
WP: Sanches, Sherrill 2.
HBP: Colon, C (by Heckathorn), Garner (by Severino).
Pitches-strikes: Sanches 61-33, Severino 29-18, Sherrill 23-11, Bueno 39-22, Teaford 17-12, Fiers 70-41, Sanchez, Je 20-16, Webb 14-9, Heckathorn 19-15, Lowe 17-11.
Groundouts-flyouts: Sanches 3-3, Severino 3-1, Sherrill 0-0, Bueno 0-2, Teaford 2-1, Fiers 1-3, Sanchez, Je 2-1, Webb 0-1, Heckathorn 4-0, Lowe 1-1.
Batters faced: Sanches 20, Severino 8, Sherrill 4, Bueno 11, Teaford 4, Fiers 18, Sanchez, Je 6, Webb 3, Heckathorn 7, Lowe 7.
Inherited runners-scored: Severino 2-1, Bueno 1-1.
Umpires: HP: Greg Stanzak. 1B: Nick Bailey. 3B: Angel Campos.
Weather: 61 degrees, clear.
Wind: 1 mph, In from CF.
T: 3:08.
Att: 5,411.