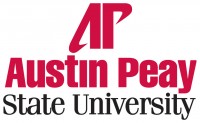 Clarksville, TN – Dr. Andriy Kovalskyy, associate professor of physics, was named the recipient of Austin Peay State University's prestigious Richard M. Hawkins Award during a ceremony on April 29th.
The award is presented every spring in recognition of exceptional scholarly and creative work produced by a faculty member.
Kovalskyy has earned an international reputation over the years for his innovative research on glass materials. Aside from being published in more than 65 peer-reviewed journals, he has written several chapters for scholarly books and he holds numerous patents for his inventions pertaining to his research.
Kovalskyy began his impressive scholarly career at the Ivan Franko National University in L'viv, Ukraine, where he earned his Ph.D. in physical and mathematical sciences, with a specialization in solid state physics. He then went on to work as a researcher and professor at several prestigious institutions, such as the Warsaw University of Technology, the University of Applied Sciences in Muenster, Germany, and Lehigh University in Pennsylvania.
While at that school, Kovalskyy served as the project leader for Lehigh's Center for Optical Technologies.
In 2010, Kovalskyy joined the physics faculty at APSU, where he quickly earned a reputation as a brilliant researcher. He has advanced the University's name with his collaborations with major research institutions.
Kovalskyy was awarded beamtime at the Brookhaven National Laboratory's National Synchrotron Light Source and at Oak Ridge National Laboratory's Neutron Spallation Source. He brought undergraduate students with him on both of these data gathering visits.
Kovalskyy is also the recipient of numerous honors, awards and fellowships from organizations such as the National Science Foundation to the Ukraine's Ministry of Education and Science.
For more information on the Hawkins Award, contact Charles Booth with the APSU Office of Marketing and Public Relations at 931.221.7597.