Clarksville, TN – One could smell the aromas in the air before arriving at Hilltop Super Market's 4th annual BBQ Cook-Off Saturday.
The grass area in front of the market was filled with tents, grills, barrels and all kinds of barbecue cooking equipment.
People from miles around come out to the BBQ Cook-Off. There was plenty of food to be had as most of the grillers were selling barbecue as well as competing. Anything from bbq sandwich, hamburger, hotdogs, ribeye sandwiches, bbq by the pound, etc were available for purchase.
"This is an awesome, just awesome event. This is fun and exciting for the whole community," stated Gary Ferguson.
This event has grown over the past four years and has become a staple of the local community. This year there was a cornhole tournament, car wash and bake sale.
Montgomery Central High School Fellowship of Christian Athletes held a car wash and bake sale at the event. The car wash was a service project of the MCHS FCA. All proceeds from the event went to support a family in the local community who is looking to adopt a child.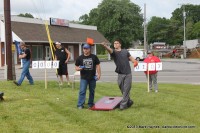 The Palmyra Volunteer Fire Department held their First Annual Cornhole Tournament at 8:00am. Jimmy McGuffin of Frankfort, KY and Michael Ratcliffe from Lawrenceburg, KY were the winners of the tournament.
Casey Gunter and Mitchell Ellis came in 2nd Place. Palmyra Fire also sold sandwiches, chips and drinks as part of their fundraiser.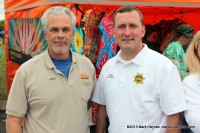 "This event has done really well this year. We have been doing this with Mike since they started doing it. It works out really well for us. People have a good time and it helps the community," said Palmyra Volunteer Fire Department Chief Mike Donaghey. "We're seeing people we haven't seen in years. It's sort of neat in that sense. It's more of a community event than anything else. It's fun. We have a really good time doing it. Im happy."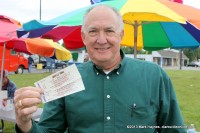 A drawing was held for two pairs of tickets to see the Nashville Sounds play at Greer Stadium in Nashville, TN. The tickets were provided by ClarksvilleSportsNetwork.com and ClarksvilleOnline.com. Herald Etling and Buddy Shorar won the tickets.
The judging for the BBQ Cook-Off started with chicken at 12:00pm, then ribs at 12:30pm, pork at 1:00pm and brisket at 1:30pm. There were 12 judges broken down into two 6 person panels. Each panel judged an entry for it's taste, texture and appearance. The point system was scored from 1 to 10 (10 being the best).
All scores were entered into a BBQ Event Software that tallied the scores. The team with the most total points would be named the 2013 BBQ Cook-Off Grand Champion.
There were 13 teams in this years event. They were: Big B's BBQ, Double A's BBQ, The Spice is Right, Q#, Big Orange Smokers, Big Daddy Bobcats, Homestead BBQ, Cracker Boy, Lallo, D&D BBQ, Tenn Double D's, Rib Cage and Grilling & Chillin.
After the final score was entered, everyone moved to the prize table. For each of the categories, chicken, ribs, pork and brisket, there was a 1st, 2nd and 3rd place plaque along with a cash prize.
The 1st place winner for chicken was Big B's BBQ. For pork ribs, 1st place went to Double A's BBQ. In pulled pork, Big Orange Smokers won 1st place. Rib Cage took home 1st place for beef brisket. The Grand Champion for the 2013 Hilltop BBQ Cook-Off was Double A's BBQ which placed in the top three of all four catagories.
"I really thought this was one of my worst days. I was thinking I would never place," stated Andy Albert with Double A's BBQ. "I was really surprised to be name Champion. It's really hard to do that."
"I want to thank all of the teams that participated today. I also want to thank all of the volunteers for their hard work in making this a great event for the community," said Hilltop Super Market manager Mike Jackson.
For more on the MCHS FCA car wash and bake sale, see: Montgomery Central High School FCA holds Car Wash during Hilltop Super Market's BBQ Cook-Off
For more on the Palmyra Fire Cornhole Tournament, see: Palmyra Volunteer Fire Department holds First Annual Cornhole Tournament at Hilltop Super Market
The Results
GRAND CHAMPION
Place
Team
1st
Double A's BBQ
2nd
Big B's BBQ
3rd
Big Orange Smokers
CHICKEN
Place
Team
1st
Big B's BBQ
2nd
Double A's BBQ
3rd
The Spice is Right
RIBS
Place
Team
1st
Double A's BBQ
2nd
Big B's BBQ
3rd
Big Orange Smokers
PORK
Place
Team
1st
Big Orange Smokers
2nd
Double A's BBQ
3rd
Rib Cage
BRISKET
Place
Team
1st
Rib Cage
2nd
Double A's BBQ
3rd
Big B's BBQ
Photo Gallery
Hilltop Super Market
Hilltop Super Market is located at 400 Highway 149, Clarksville TN. From Clarksville, you would take Hwy 48/13 south across the Cumberland river, turn right on highway 149 and Hilltop Super Market is located on the left at the top of the hill next to Freds. Hilltop serves the grocery needs of the southern Montgomery county area.
Visit their website at: www.hilltopsupermarket.com.