Written by Sgt. David Hodge
101st Airborne Division (Air Assault) Public Affairs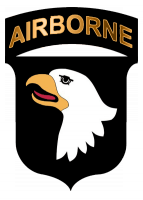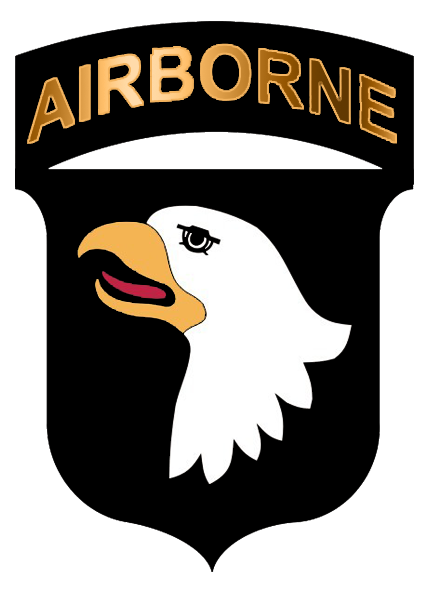 Fort Campbell, KY – Leaders of Fort Campbell and the 101st Airborne Division (Air Assault) gathered to recognize two Soldiers as winners of the 2013 Non-Commissioned Officer and Soldier of the Year competition, Monday, June 3rd, at McAuliffe Hall.
Sgt. Jose L. Orozco and Spc. Jonathan D. Gragert appeared calm and collected as they stood at attention; representing both the 101st Airborne Division, and "the future of the U.S. Army," according to Command Sgt. Major Mark F. Herndon, rear detachment command sergeant major.
Herndon, along with Brig. Gen. Mark R. Stammer, senior acting commander of the 101st and Fort Campbell, presented Army Commendation Medals to Orozco and Gragert, who serve with the division's 159th Combat Aviation Brigade and 2nd Brigade Combat Team, respectively.
Orozco, a native of Houston, TX, and an OH-58D technical instructor for Company B, 563rd Aviation Support Battalion, said he knew what it was going to take to win. So, in order to prepare, he trained everyday for a month.
"I was preparing 24/7," said Orozco.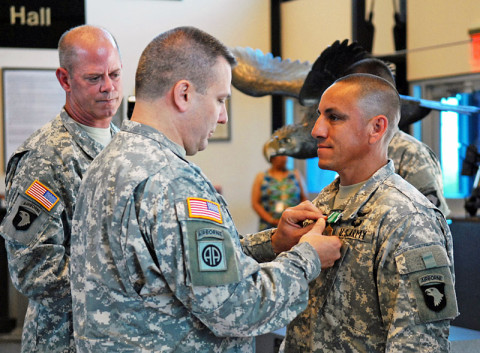 Gragert said he studied often too, and considers it to be a necessity as he looks to mature as a Soldier, and as an infantryman with Company C., 2nd Battalion, 502nd Infantry Regiment, 2nd Brigade Combat Team.
"I'm trying to get used to the fact that I'm the Soldier of the Year for the 101st Airborne Division," explained Gragert, who's been in the Army for 13 months. "It's one of the most historic division's in the Army; just to be a part of it is pretty surreal."
Both Orozco and Gragert, a native of San Jose, CA, said they couldn't have accomplished this feat without the confidence and trust from their NCOs and encouragement from family.
The competition began at 4:30am, May 14th, and lasted approximately 34 hours straight–until about 9:30am, the next day.
Typically events such as these are completed over the course of a few days, said Herndon. "We did it for a couple of reasons–to check their stamina and check their heart," he explained. "And, to put them through some pretty hard events."
Initially, there were eight Soldiers in the competition–four each in the NCO and Soldier categories. Orozco and Gragert performed the best through events such as the Army Physical Fitness Test, weapons qualification, day and night land navigation, combatives, night-urban orienteering, written exam, oral board, situational training exercises and other events.
Also, Herndon said, the event was designed this way to better enable the winners for the follow-on event, the Best Warrior Competition held at Fort Hood, Texas, later this month. It will take place over a five-day period.
If Orozco and Gragert succeed at the next event, they will move on to compete in the Best Warrior Competition for the U.S. Forces Command.