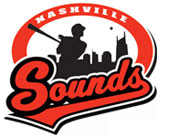 Memphis, TN – The Nashville Sounds were unable to figure out either side of the Memphis Redbirds Sunday night at AutoZone Park, who limited Nashville to three hits in the decisive 13-3 loss. As a result, Memphis wins the four-game series 3-1.
Trailing 4-0 in the fourth inning, Sounds slugger Hunter Morris came up with a three-run home run to right field to pull Nashville to within one. The homer, Morris' 18th of the season, scored Scooter Gennett and Josh Prince.
Gennett reached base in the inning on a leadoff single into right field, which extended his hitting streak to a season-best 12 games. He has recorded a hit in each game since returning to the Sounds from Milwaukee on June 27th.
But any momentum the fourth may have offered Nashville was halted by a stellar performance from Redbirds' starting pitcher Tyler Lyons (4-1), who picked up his fourth win by limiting Nashville to two hits across eight innings.
The lefty set down the Sounds in order in seven of his eight innings pitched, striking out nine and walking one. Reliever Victor Marte combined for the three-hitter, pitching a scoreless eighth. Caleb Gindl rapped a two-out double for the Sounds only other hit.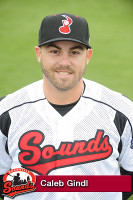 While the Sounds struggled at the plate, the Redbirds pulled away in the eighth inning with eight runs.
Reliever Michael Olmsted took the hill for Nashville in the frame and faced all nine Memphis batters, allowing seven runs on four hits and three walks. He exited with the bases loaded and one out to go.
Travis Webb entered to attempt to record the inning's final out, but Adron Chambers hit a grand slam that was ruled just inside fair territory over the right-field wall. Webb disputed that the ball went foul and was ejected by first base umpire Hal Gibson III. Tim Dillard entered to record the final out.
The Redbirds scored initially in the first inning, working the bases loaded before Chambers hit a sacrifice fly to center field for the 1-0 lead. Then in the third inning, Sounds starter Hiram Burgos (1-4) was touched for two home runs to give Memphis a 4-0 advantage.
Kolten Wong, 2-for-4, connected for a lead-off blast, which was followed later by Jamie Romak's 19th of the season.
Burgos took the loss, his fourth, allowing four runs on five hits across three innings of work. Reliever Kyle Heckathorn followed Burgos with his longest effort of the season, going four innings and holding Memphis to one run and two hits.
The Sounds will head west to New Mexico to begin a three-game series with the Albuquerque Isotopes (Dodgers affiliate). Throwing for Nashville will be RHP Jimmy Nelson (1-2, 2.30) against an Albuquerque pitcher to be announced.
Baseball returns to Greer Stadium on Thursday, July 11th for a BURGER KING Throwback Thursday, where fans can enjoy $2.00 beer and select concession items.
Box Score
Nashville Sounds (32-59) 3, Memphis Redbirds (44-47) 13
July 7th, 2013
1
2
3
4
5
6
7
8
9
R
H
E
Nashville Sounds
0
0
0
3
0
0
0
0
0
3
3
0
Memphis Redbirds
1
0
3
0
0
1
0
8
x
13
12
0
a-Flied out for Heckathorn in the 8th.
BATTING
2B: Gindl (19, Marte, V).
HR: Morris, H (18, 4th inning off Lyons, 2 on, 1 out).
TB: Gennett; Morris, H 4; Gindl 2.
RBI: Morris, H 3 (48).
Runners left in scoring position, 2 out: Morris, H.
Team RISP: 1-for-3.
Team LOB: 1.FIELDING
DP: (Gennett-Davis, B-Morris, H).
BATTING
2B: Johnson, Ro (8, Olmsted).
HR: Wong (7, 3rd inning off Burgos, H, 0 on, 0 out), Romak (19, 3rd inning off Burgos, H, 1 on, 0 out), Chambers (5, 8th inning off Webb, 3 on, 2 out).
TB: Garcia, G; Jackson, R; Chambers 4; Pham; Lyons; Wong 5; Johnson, Ro 4; Romak 5.
RBI: Chambers 5 (33), Wong (29), Romak 3 (52), Johnson, Ro 3 (32), Pham (6).
2-out RBI: Johnson, Ro; Romak; Chambers 4.
Runners left in scoring position, 2 out: Jackson, R; Pham.
SAC: Lyons.
SF: Chambers.
GIDP: Garcia, G.
Team RISP: 6-for-10.
Team LOB: 5.BASERUNNING
SB: Wong (12, 2nd base off Burgos, H/De La Rosa, A).
Memphis Redbirds
Player
IP
H
R
ER
BB
SO
HR
ERA
Tyler Lyons (W, 4-1)
8.0
2
3
3
1
9
1
3.42
Victor Marte
1.0
1
0
0
0
1
0
5.61
Totals
9.0
3
3
3
1
10
1
4.03
Webb pitched to 1 batter in the 8th.
Pitches-strikes: Burgos, H 52-33, Heckathorn 54-34, Olmsted 37-18, Webb 5-2, Dillard 2-2, Lyons 88-63, Marte, V 13-8.
Groundouts-flyouts: Burgos, H 4-5, Heckathorn 3-4, Olmsted 0-1, Webb 0-0, Dillard 1-0, Lyons 7-6, Marte, V 0-2.
Batters faced: Burgos, H 16, Heckathorn 15, Olmsted 9, Webb 1, Dillard 1, Lyons 27, Marte, V 4.
Inherited runners-scored: Webb 3-3.
Ejections: Nashville Sounds pitcher Travis Webb ejected by 1B umpire Hal Gibson III (8th)
Umpires: HP: Adam Schwarz. 1B: Hal Gibson III. 3B: Brian Hertzog.
Weather: 88 degrees, partly cloudy.
Wind: 8 mph, R to L.
T: 2:28.
Att: 4,751.
Venue: AutoZone Park.
July 7, 2013