Nashville's Zach Kroenke Serves Up Six Scoreless; Blake Lalli Homers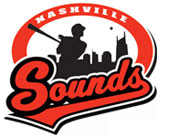 Colorado Springs, CO – The Nashville Sounds broke away with a five-spot in the ninth inning to defeat the Colorado Sky Sox by a 6-1 margin Thursday night in the series opener at Security Service Field. The victory is Nashville's ninth in their last 10 games.
The Sounds loaded the bases in the ninth before recording a hit in the inning, as Sean Halton walked, Hunter Morris reached on an error, and Blake Lalli on a sacrifice bunt fielder's choice. Stephen Parker followed with a dribbler to first base which was misfielded by Ben Paulsen to allow the go-ahead run.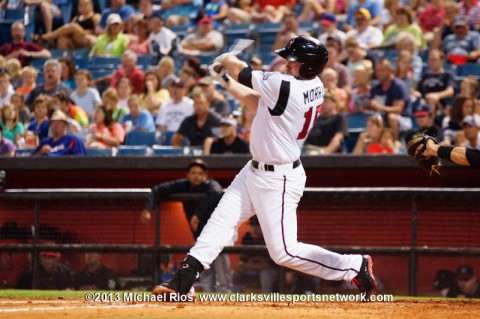 Blake Davis gave the Sounds a pair of insurance runs with a deep double to the centerfield wall. Pinch hitter Ozzie Chavez made it 5-1 with his sacrifice fly and Kentrail Davis shot a single into centerfield for the team's final run.
Reliever Kyle Heckathorn (8-3) picked up the win for Nashville, his eighth. The right-hander walked the bases loaded in the eighth, before retiring the side in his only inning of work.
Lalli, 2-for-3, helped Nashville out to an early 1-0 lead with a solo home run to the opposite field. The second-inning blast marked Lalli's 10th of the year to become the fourth Sound to record double-digit jacks this season.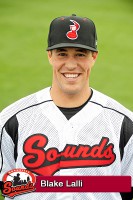 Lalli's run held for the Nashville advantage until the bottom of the seventh inning. Sky Sox outfielder Kent Matthes led off the inning with a single into centerfield that just dropped in despite Kentrail Davis' best effort. He reached second on the play in a run down.
Matthes moved to third on a sacrifice bunt, which brought in lefty Travis Webb from the Sounds bullpen. Webb picked up the second out of the inning via strikeout, but pinch hitter Ryan Wheeler lined a double to the left-field corner to knot the game, 1-1. The run was charged to reliever Johnnie Lowe, who began the inning.
A one-hour and 58-minute rain delay preceded the game, burning both team's starting pitchers: R.J. Seidel for Nashville and Cory Riordan for Colorado Springs.
The delayed start put Zach Kroenke on the hill for Nashville to make his first start since July 10th in Albuquerque. Despite the short notice, the 29-year-old delivered six innings of scoreless baseball for Nashville, limiting the Sky Sox to just two hits for his fifth quality start of the season.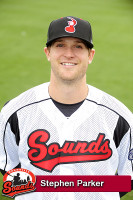 The lefty retired nine Sky Sox in a row, beginning in the third inning, before a pair of Hunter Morris fielding errors at first put runners on the corners with two outs in the sixth. Kroenke escaped the jam by getting outfielder Xavier Nady to strike out swinging.
Kroenke finished with four strikeouts and only one walk before giving way to Lowe in the seventh.
Brent Leach also saw work on the hill for Nashville, pitching a scoreless ninth, though he did load the bases on two hits and one hit batsmen.
The Sounds will play game two against the Colorado Springs Sky Sox Friday night at Security Service Field. Throwing for Nashville will be LHP Aaron Laffey (5-5, 5.46) opposite the Sky Sox RHP Armando Galarraga (0-1, 9.39).
Baseball returns to Greer Stadium on Friday, August 16th, for Elvis Night and postgame fireworks.
Box Score
Nashville Sounds (47-72) 6, Colorado Springs Sky Sox (56-60) 1
August 8th, 2013
1
2
3
4
5
6
7
8
9
R
H
E
Nashville Sounds
0
1
0
0
0
0
0
0
5
6
8
2
Colorado Springs
0
0
0
0
0
0
1
0
0
1
6
2
a-Grounded out for Webb in the 8th. b-Hit a sacrifice fly for Heckathorn in the 9th.
BATTING
2B: Lalli (11, McClendon), Davis, B (15, Boggs).
HR: Lalli (10, 2nd inning off Schmidt, N, 0 on, 0 out).
TB: Velez; Lalli 6; Kroenke; Davis, B 3; Parker, S; Davis, Ke.
RBI: Lalli (26), Parker, S (29), Davis, B 2 (26), Chavez, O (7), Davis, Ke (5).
2-out RBI: Davis, Ke.
Runners left in scoring position, 2 out: Morris, H; Prince; Davis, Ke.
SAC: Lalli.
SF: Chavez, O.
GIDP: Davis, Ke.
Team RISP: 2-for-8.
Team LOB: 5.BASERUNNING
SB: Velez (6, 2nd base off Schmidt, N/Davis, L), Davis, B (5, 2nd base off McClendon/Davis, L).FIELDING
E: Morris, H 2 (7, fielding, fielding).
a-Doubled for McClendon in the 7th. b-Singled for Takahashi in the 9th.
BATTING
2B: Wheeler, R (25, Webb).
TB: Wheeler, T 2; Wheeler, R 2; Pacheco; Rutledge; Matthes.
RBI: Wheeler, R (68).
2-out RBI: Wheeler, R.
Runners left in scoring position, 2 out: Nady 2; Paulsen 3; Wheeler, T; Garcia, A 2.
SAC: Garcia, A.
Team RISP: 1-for-12.
Team LOB: 12.FIELDING
E: Rutledge (5, fielding), Paulsen (6, fielding).
DP: (Rutledge-Paulsen).
WP: Kroenke 2.
HBP: Rutledge (by Leach).
Pitches-strikes: Kroenke 89-58, Lowe 8-5, Webb 8-8, Heckathorn 27-13, Leach 19-13, Schmidt, N 47-31, McClendon 38-28, Boggs 40-26, Takahashi 4-3.
Groundouts-flyouts: Kroenke 9-3, Lowe 1-0, Webb 1-0, Heckathorn 2-0, Leach 0-1, Schmidt, N 6-0, McClendon 4-4, Boggs 5-1, Takahashi 0-0.
Batters faced: Kroenke 23, Lowe 2, Webb 3, Heckathorn 6, Leach 6, Schmidt, N 13, McClendon 13, Boggs 11, Takahashi 1.
Inherited runners-scored: Webb 1-1, Takahashi 1-0.
Umpires: HP: Joel Hospodka. 1B: Tom Woodring. 3B: Gerard Ascani.
Weather: 69 degrees, cloudy.
Wind: 6 mph, Out to RF.
T: 3:02 (1:58 delay).
Att: 5,921.
Venue: Security Service Field.
August 8, 2013