Nashville's Johnny Hellweg Picks Up 11th Win And 2 RBIs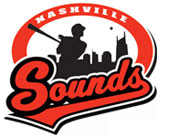 Reno, NV – The Nashville Sounds converted 14 hits into seven runs Thursday night at Aces Ballprk to defeat the Reno Aces 7-3 in the series finale.
The win gives Nashville the series split and their 15th Thursday night win of the season (15-3).
The Sounds finish the road trip with a 4-4 record. Nashville strung together three runs in the second inning for the early 3-0 lead.
Catcher Robinzon Diaz, 2-for-4, doubled to lead off the frame and was followed by a walk to Stephen Parker. Shortstop Josh Prince hit a bases-clearing triple to the right-field wall and then scored on Johnny Hellweg's double to the same spot.
Sean Halton, 1-for-5, added to the Sounds lead in the fifth inning with a groundout that scored Caleb Gindl, 2-for-5, from third for the 4-0 lead. Gindl reached the hot corner on a hustle triple on a ball hit to right-center field.
With two outs in the inning, Diaz and Parker drew walks before Prince and Hellweg connected again for back-to-back RBI-singles to make it 6-0. First baseman Blake Lalli added a run in the sixth inning with his shallow single into left field.
Kentrail Davis led the offense with three hits, two doubles, while Josh Prince racked up three RBIs.
The Aces worked three runs off Hellweg (11-5) in the sixth inning, after the Sounds hurler had served up five scoreless. Mike Jacobs touched Hellweg for a lead-off home run to extend his hit streak to 11 games.
A Prince fielding error allowed Juan Rivera to reach base in the frame before Josh Wilson lifted Reno's second home run of the inning to pull the Aces to within four runs. Reno never scored again.
Hellweg picked up his 11th win of the season, scattering five hits across six innings of work. The 6-foot-9 pitcher allowed three runs, two earned, walked four and struck out three before making way for reliever Brent Leach.
Leach and Kyle Heckathorn combined for three perfect frames for Nashville with two strikeouts.
Reno starter Tyler Skaggs (6-8) took the loss, allowing Nashville six runs on 10 hits and three walks over 4 2/3 innings of work.
The Sounds return to Greer Stadium Friday to begin a five-game homestand with the Round Rock Express (Rangers affiliate). Throwing for Nashville will be RHP Jimmy Nelson (3-4, 3.54) opposite Express' RHP Jake Brigham (4-3, 4.28).
The first 500 fans to Greer Stadium will receive a commemorative Elvis TV Guide, courtesy of Sun Entertainment, for Elvis Night and postgame fireworks.
Box Score
Nashville Sounds (50-76) 7, Reno Aces (50-76) 3 August 15th, 2013
1
2
3
4
5
6
7
8
9
R
H
E
Nashville Sounds
0
3
0
0
3
1
0
0
0
7
14
1
Reno Aces
0
0
0
0
0
3
0
0
0
3
5
0
BATTING 2B: Diaz, R (6, Skaggs), Hellweg (1, Skaggs), Davis, Ke 2 (6, Skaggs, Sipp). 3B: Prince (2, Skaggs), Gindl (3, Skaggs). TB: Velez; Diaz, R 3; Lalli; Prince 4; Halton; Hellweg 3; Gindl 4; Davis, Ke 5. RBI: Prince 3 (47), Hellweg 2 (2), Halton (47), Lalli (29). 2-out RBI: Prince; Hellweg. Runners left in scoring position, 2 out: Lalli; Gindl; Velez; Davis, Ke; Halton. GIDP: Diaz, R. Team RISP: 7-for-19. Team LOB: 9.BASERUNNING CS: Davis, Ke (3, 2nd base by Skaggs/Brenly). PO: Davis, Ke (1st base by Skaggs). FIELDING E: Prince (13, fielding). DP: 2 (Prince-Lalli, Prince-Velez-Lalli).
a-Grounded out for Marshall, E in the 6th. b-Struck out for Sipp in the 8th.
BATTING HR: Jacobs (15, 6th inning off Hellweg, 0 on, 0 out), Wilson, Jo (3, 6th inning off Hellweg, 1 on, 1 out). TB: Jacobs 4; Brenly; Wilson, Jo 4; Harbin; Rivera, J. RBI: Jacobs (52), Wilson, Jo 2 (15). Runners left in scoring position, 2 out: Brenly; Rivera, J 2. GIDP: Fox, Marte, A. Team RISP: 1-for-3. Team LOB: 6.BASERUNNING SB: Bortnick (17, 2nd base off Hellweg/Diaz, R). FIELDING DP: (Wilson, Jo-Bortnick-Jacobs). Pickoffs: Skaggs (Davis, Ke at 1st base).
WP: Hellweg. HBP: Davis, Ke (by Skaggs). Pitches-strikes: Hellweg 90-50, Leach 8-7, Heckathorn 24-15, Skaggs 102-64, Marshall, E 23-15, Sipp 21-15, Munson 11-6. Groundouts-flyouts: Hellweg 11-4, Leach 1-2, Heckathorn 0-2, Skaggs 7-1, Marshall, E 2-1, Sipp 1-1, Munson 2-0. Batters faced: Hellweg 27, Leach 3, Heckathorn 6, Skaggs 27, Marshall, E 6, Sipp 7, Munson 3. Inherited runners-scored: Marshall, E 2-0. Umpires: HP: Jeff Morrow. 1B: Greg Stanzak. 3B: Nick Bailey. Weather: 86 degrees, clear. Wind: 15 mph, L to R. T: 2:53. Att: 5,081. Venue: Aces Ballpark. August 15, 2013