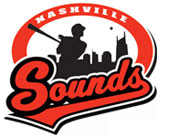 Nashville, TN – The Nashville Sounds treated South Nashville Little League and 8,004 fans to a 7-2 win over the visiting Iowa Cubs Saturday night at Greer Stadium.
Prior to the game, the recent Little League World Series participants joined the Sounds on the field during the pregame festivities. The Sounds honored the team by wearing their Southeast Little League caps during the game.
Nashville got on the board in the second inning courtesy of Blake Davis' home run over the right-field wall. The homer, Davis' second of the season, gave Nashville the 2-0 lead.
Iowa cut into Nashville's lead in the third inning when Dave Sappelt scored on starting pitcher Jimmy Nelson's (5-6) throwing error. Nelson was trying to catch Sappelt stealing, but sailed the ball over third baseman Stephen Parker and into foul territory.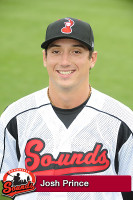 Nelson returned the Sounds lead to two runs in the home half of the fourth inning by laying down a sacrifice bunt that scored Josh Prince from third base. Prince had reached base with a leadoff single, moved to second on Parker's sac-bunt and moved to third on a passed ball.
Nelson picked up the win in his final start of the season, holding Iowa to two runs, one earned, on four hits over 5 2/3 innings pitched. The right-handed pitcher fired 10 strikeouts to match a career high. Tim Dillard closed out the sixth inning for Nelson.
Hunter Morris connected for a double, his 50th extra-base hit of the season, in the fifth inning to score Eugenio Velez and give Nashville the 4-1 advantage.
Velez, 2-for-5, hit a single in the first inning to extend his hit streak to 20 games. He has reached base in 34 consecutive games, extending the PCL's longest such streak of 2013.
In the sixth inning, Kentrail Davis added a run to the Sounds lead with his RBI single into left field, scoring Parker. On the following play Sounds catcher Blake Lalli, who reached base on a pinch-hit double, scored on a sacrifice fly by Velez.
The Sounds picked up their final run of the game in the seventh inning on Iowa's second error of the game. Attempting to throw out Robinzon Diaz at home plate, third baseman Mike Olt errantly threw past the catcher.
Iowa starter Yoanner Negrin (4-7) was charged with the loss, surrendering two runs on four hits in 1 2/3 innings pitched.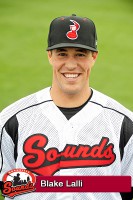 Relievers Brent Leach, Johnnie Lowe, and Donovan Hand each pitched a scoreless inning for Nashville, combining to hold Iowa to two hits.
Cubs infielder Tim Torres and manager Marty Pevey were ejected in the top of the second inning after Torres was called out on strikes.
The Sounds will play their penultimate game of the season Sunday night at Greer Stadium against the Cubs. Throwing for Nashville will be LHP Zach Kroenke (5-16, 4.77) opposite Iowa's RHP Justin Grimm (3-3, 4.71). The Sounds will wear their military jerseys for Piedmont Natural Gas Military Sunday presented by Tennessee 811. Fans attending the game can bid on the jerseys in a silent auction during the game.
Box Score
Nashville Sounds (56-86) 7, Iowa Cubs (65-77) 2
August 31st, 2013
1
2
3
4
5
6
7
8
9
R
H
E
Iowa Cubs
0
0
1
0
0
1
0
0
0
2
6
2
Nashville Sounds
0
2
0
1
1
2
1
0
x
7
12
2
a-Flied out for Antigua in the 6th. b-Grounded out for Sanchez, E in the 9th.
BATTING
2B: Ha (13, Lowe), Borbon (4, Hand, D).
TB: Sappelt 2; Nelson; Ha 3; Borbon 2.
Runners left in scoring position, 2 out: Maysonet; Negrin; Rohan; Boscan; Nelson.
Team RISP: 0-for-8.
Team LOB: 10.BASERUNNING
SB: Ha 2 (7, 3rd base off Nelson/Diaz, R, 3rd base off Dillard/Diaz, R), Sappelt (4, 3rd base off Nelson/Diaz, R), Gonzalez, E (8, 2nd base off Dillard/Diaz, R).FIELDING
E: Nelson (6, fielding), Olt (23, throw).
PB: Boscan (4).
Outfield assists: Sappelt (Davis, Ke at 3rd base), Ha (Davis, Ke at 1st base).
DP: (Ha-Nelson).
a-Doubled for Dillard in the 6th. b-Flied out for Lowe in the 8th.
BATTING
2B: Davis, Ke (7, Negrin), Morris, H 2 (25, Antigua, Mateo), Lalli (14, Mateo).
HR: Davis, B (2, 2nd inning off Negrin, 1 on, 1 out).
TB: Velez 2; Lalli 2; Prince; Diaz, R 2; Davis, B 4; Parker, S; Morris, H 4; Davis, Ke 3.
RBI: Davis, B 2 (31), Nelson (1), Morris, H (71), Davis, Ke (14), Velez (21).
2-out RBI: Morris, H.
Runners left in scoring position, 2 out: Morris, H 2; Davis, Ke; Prince; Davis, B.
SAC: Parker, S; Nelson.
SF: Velez.
Team RISP: 1-for-9.
Team LOB: 7.BASERUNNING
SB: Velez (9, 2nd base off Antigua/Boscan).FIELDING
E: Nelson (2, throw), Leach (1, missed catch).
PB: Diaz, R (2).
WP: Nelson.
Pitches-strikes: Negrin 35-20, Antigua 48-30, Mateo 31-20, Sanchez, E 14-10, Nelson 99-59, Dillard 12-5, Leach 16-12, Lowe 11-8, Hand, D 13-9.
Groundouts-flyouts: Negrin 1-1, Antigua 3-3, Mateo 3-2, Sanchez, E 1-1, Nelson 5-1, Dillard 0-1, Leach 2-1, Lowe 1-1, Hand, D 2-0.
Batters faced: Negrin 9, Antigua 15, Mateo 11, Sanchez, E 3, Nelson 25, Dillard 2, Leach 4, Lowe 4, Hand, D 4.
Inherited runners-scored: Dillard 2-1.
Ejections: Iowa Cubs first baseman Tim Torres ejected by HP umpire Hal Gibson III (2nd); Iowa Cubs Manager Marty Pevey ejected by HP umpire Hal Gibson III (2nd)
Umpires: HP: Hal Gibson III. 1B: Adam Schwarz. 3B: Brian Hertzog.
Weather: 89 degrees, partly cloudy.
Wind: 2 mph, In from CF.
T: 3:06.
Att: 8,004.
Venue: Herschel Greer Stadium.
August 31, 2013