Ledbetter, KY – The good news is sophomore Jessica Cathey, Austin Peay State University's 2013 All-Ohio Valley Conference performer, finally regained form during Monday's second round of the Murray State Drake Creek Invitational, shooting a 71 at the Drake Creek Golf Club.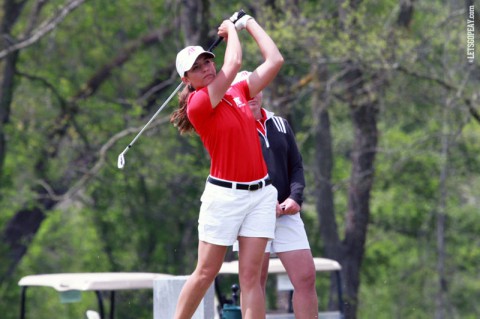 The bad news is Cathey was playing as an individual and, as a result, senior Rachel Deaton was the only Lady Gov to finish below 80 in that round. Consequently, the Lady Govs are in sixth place after 36 holes of tournament with a 639 score, shooting 313 and 326, Monday.
Host Murray State leads the tourney at 592 while Western Kentucky is in second at 615 in the 11-team tourney.
The tourney's final round will be played Tuesday on the par-72, 6,178-yard layout.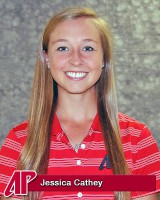 After struggling through the first four rounds of the young fall season shooting 80 or higher, Cathey returned to her freshman ways with a 71, Monday afternoon. The 71 tied for second lowest round of the day, with her 152 leaving her tied for seventh overall.
"It was good to see Jessica finally play like Jessica," APSU coach Sara Robson said. "It is all about tempo with her."
Meanwhile, the Lady Govs, who used a trio of sub-80 rounds to shoot a 313 morning round, ballooned to a 329 in the afternoon as senior Deaton was APSU's lone performer in the 70s, shooting 77 for a combined 155.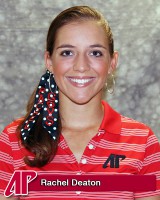 "Rachel is so close to challenging 74 to 76 every round," Robson said. "She is finally getting back to where she was before the injuries, illnesses and the surgeries."
In fact, she was one of only two Lady Govs scorers to shoot under 160. Morgan Kauffman fired 158 (77-81) while fellow freshmen Morgan Gardner and Amber Bosworth were at 164 (80-84) and 169 (85-84), respectively. Senior Tala Mumford offset an opening-round 78 with an unbecoming 92 in the afternoon.
Junior Meghan Mueller, like Cathey playing as an individual, fired a 78-82 for 160.
"We had a couple of holes today that just ate us up, like 18," Robson said. "We misjudged some shots. There are no holes on this course where we can't achieve par.
"Tomorrow we have to concentrate on hitting in the fairway and the middle of the greens."
Box Score
Murray State Drake Creek Invitational
Dates: 09/09-09/10, 2013
Round: 2
Par-Yardage: 72-6178
| | | | | |
| --- | --- | --- | --- | --- |
| Finish | School – Players | Round 1 | Round 2 | Totals |
| 6 | Austin Peay State University | 313 | 326 | 639 |
| T 14 | Rachel Deaton | 78 | 77 | 155 |
| T 22 | Morgan Kauffman | 77 | 81 | 158 |
| T 35 | Morgan Gardner | 80 | 84 | 164 |
| T 43 | Amber Boswoth | 85 | 84 | 169 |
| T 47 | Tala Mumford | 78 | 92 | 170 |
| | | | | |
| 7 | Jessica Cathey | 81 | 71 | 152 |
| T 28 | Meghan Mueller | 78 | 82 | 160 |
| | | | | |