Clarksville, TN – After spending the season's first month on the road, Austin Peay State University's volleyball team will break the seal on its home schedule when it hosts Murray State in a 7:00pm, Tuesday Ohio Valley Conference contest at the Dunn Center.

It's been a rough month on the road for Austin Peay (4-13, 1-1 OVC). The Lady Govs have battled injuries in their first 17 matches, the most significant being junior Jada Stotts injury that cost her 10-plus matches of the campaign.

Still, head coach Taylor Mott believes the challenges of the first month have given her a glimpse of her team's potential, particularly since Stotts returned in time for the OVC's opening weekend, Friday and Saturday.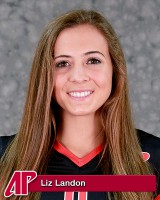 "As a coach you know injuries are inevitable," said Mott. "You just hope your team can weather the storm and come out of the experience stronger. I certainly believe that is true of this team right now."
Stotts returned for OVC opening matches at Jacksonville State and Tennessee Tech and was in the thick of the offense. While she led the team with 32 kills in the two matches, she struggled with her consistency and was charged with 28 attack errors on a team-high 117 attempts.
"Getting Jada back is huge for us," said Mott. "She's not at 100 percent yet, but she'll only get better as she gets back into game shape."
Austin Peay received strong performances from junior middle blockers Liz Landon and Hillary Plybon during the weekend. Landon set a career high with 14 kills at Jacksonville State before posting 13 kills at Tennessee Tech. Plybon played just two sets on the weekend, but they were pivotal as she recorded nine kills while playing the third and fourth sets of the win at Tennessee Tech.
"Liz and Hillary were big for us this weekend," said Mott. "Liz has been very consistent the last four times she's been on the court and has provided us some depth. Hillary got a break and came back against Tennessee Tech and played to her capability which will be huge in conference play for us."
Scouting the Opposition
Murray State (11-5, 1-1 OVC) is Austin Peay's travel partner in OVC play and also split its weekend matches, winning a five-set decision at Tennessee Tech, Friday, before falling in five sets at Jacksonville State, Saturday.

The loss at Jacksonville State snapped the Racers four-match win streak which equaled a four-match win streak earlier in the campaign. Sophomore Alyssa Lelm leads Murray State with 209 kills (3.32 kills per set) while posting a league-leading .365 attack percentage.
Last Season's Meetings and Series History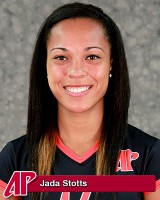 Austin Peay won both meetings last season, claiming a four-set victory at Murray State before posting a sweep in Clarksville. Jada Stotts recorded 31 kills and a .301 attack percentage in the two meetings, including 16 kills in the contest played at the Dunn Center.
Taylor Olden led Murray State with 22 kills in the two matches. Last season's sweep extended Austin Peay's win streak against Murray State to seven matches and APSU holds a 34-32 advantage in the series. The Racers last win in the series came October 16th, 2009 in Murray.
On the Web
Tuesday's contest will be available on www.OVCDigitalNetwork.com – the Ohio Valley Conference's free nationwide ipTV service. Live statistics will be available at www.LetsGoPeay.com.
Sections
Sports
Topics
Alyssa Lelm, APSU, APSU Athletics, APSU Dunn Center, APSU Sports, APSU Volleyball, APSU Women's Volleyball, Austin Peay State University, Clarksville, Clarksville TN, Hillary Plybon, Jacksonville State, Jada Stotts, Lady Govs, Liz Landon, Murray State, Ohio Valley Conference, OVC, Racers, Taylor Mott, Taylor Olden, Tennessee Tech