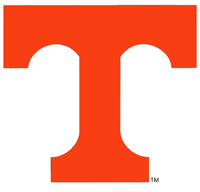 Clarksville, TN – The University of Tennessee Volunteers dropped a heartbreaking over-time loss to Georgia, 34-31 at Neyland Stadium on Saturday, as the Vols were seeking that "signature " win they've been desperate for.
Georgia kicker Marshall Morgan kicked a 42 yard field goal in overtime to give the Bulldogs the hard fought victory.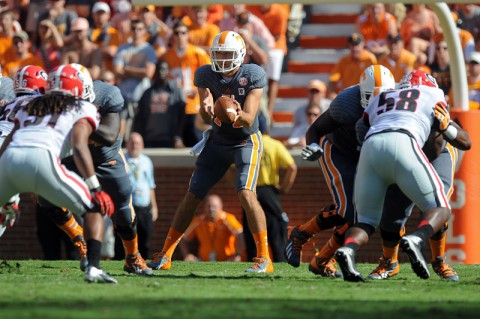 Tennessee's Alton "Pig" Howard took the Vols' first overtime possession and lost control of the ball as he dove into the endzone, and the initial ruling was a touchdown. After replays, it was determined that he fumbled the football prior to crossing the goal line, and the touchdown was waived off.
Tennessee was leading the contest with 1:54 left in regulation, after a 7 yard run by Rajion Neal put the Vols ahead, 31-24.
One of the highlights of the game for Clarksville area sports fans, was a blocked punt by former Northeast High School football star, Jaylen Reeves Maybin for Tennessee.
Georgia quarterback Aaron Murray engineered a furious march down field, capped off by a 2 yard touchdown pass to Rantavious Wooten, and the game was tied at 31-31.
Neal ran for 148 yards and two touchdowns for the Vols, who are now 3-3, and 0-2 in the SEC. Tennessee has lost 19 straight games to Top 25 ranked teams.
Georgia was expected to have little trouble with a rebuilding Tennessee football team, but a series of injuries and a tough Tennessee defense turned the game into a battle.
The Vols had worn new "Smokey Gray" uniforms on Saturday, hoping that they could break the string of losses to ranked teams. Tennessee had not used alternate uniforms since a victory over South Carolina, 31-13.
Georgia came into today's game ranked #6 in the country, and is on a quest for a National Championship.
Box Score
Georgia vs Tennessee
October 5th, 2013 at Knoxville, TN
Neyland Stadium
| | | | | | | |
| --- | --- | --- | --- | --- | --- | --- |
| | 1 | 2 | 3 | 4 | OT | Final |
| Georgia Bulldogs | 10 | 7 | 0 | 14 | 3 | 34 |
| Tennessee Volunteers | 0 | 3 | 14 | 14 | 0 | 31 |
Scoring Summery
1st Quarter
12:12 UGA – Morgan, M. 56 yd field goal6 plays, 40 yards, TOP 2:48, UGA 3 – UT 0
03:53 UGA – Conley, C. 1 yd pass from Murray, A. (Morgan, M. kick)12 plays, 80 yards, TOP 4:27, UGA 10 – UT 0
2nd Quarter
10:15 UT – Palardy, M. 26 yd field goal11 plays, 59 yards, TOP 4:45, UGA 10 – UT 3
05:09 UGA – Wooten, R. 4 yd pass from Murray, A. (Morgan, M. kick)11 plays, 75 yards, TOP 5:06, UGA 17 – UT 3
3rd Quarter
07:10 UT – North, M. 19 yd pass from Worley, J. (Palardy, M. kick)7 plays, 78 yards, TOP 2:06, UGA 17 – UT 10
01:25 UT – Swafford, D. 15 yd blocked punt return (Palardy, M. kick)UGA 17 – UT 17
4th Quarter
14:55 UGA – Douglas, B. 3 yd run (Morgan, M. kick)4 plays, 75 yards, TOP 1:30, UGA 24 – UT 17
11:15 UT – Neal, R. 1 yd run (Palardy, M. kick)9 plays, 75 yards, TOP 3:40, UGA 24 – UT 24
01:54 UT – Neal, R. 7 yd run (Palardy, M. kick)13 plays, 80 yards, TOP 6:42, UGA 24 – UT 31
00:05 UGA – Wooten, R. 2 yd pass from Murray, A. (Morgan, M. kick)10 plays, 75 yards, TOP 1:49, UGA 31 – UT 31
Overtime
15:00 UGA – Morgan, M. 42 yd field goal4 plays, 0 yards, TOP 0:00, UGA 34 – UT 31