Clarksville, TN – Austin Peay State University's baseball team will put a bow on its fall schedule when it plays the annual Red-White World series. This season's three-game intrasquad series begins with a 6:00pm, Friday contest and continues with contests both Saturday and Sunday at Raymond C. Hand Park. Admission is free to each game of the series.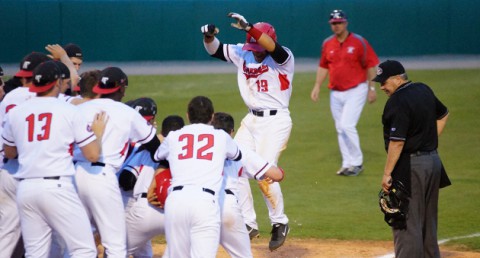 With 17 newcomers dotting the Austin Peay roster, this weekend's series is an opportunity for the Govs coaching staff to evaluate the players in live game situations. The Red Squad, led by APSU assistant coaches Joel Mangrum and Derrick Dunbar will feature nine of those newcomers. The White Squad, headed by head coach Gary McClure and volunteer assistant Skyler Barnett, will have seven newcomers on its roster. Each team will start four newcomers on defense.
Game 1 of the series will feature Jared Carkuff pitching for the Red Team against senior Ryan Quick for the White Team. The series second game will see senior Zach Hall take the mound for the Red Team while freshman Levi Primasing climbs the hill for the White Team.
Red-White World Series Schedule with probable starting pitchers
Game 1 | 6:00pm, Friday | Red: Jared Carkuff | White: Ryan Quick
Game 2 | 3:00pm, Saturday | Red: Zach Hall | White: Levi Primasing
Game 3 | 3:00pm, Sunday | Red: Caleb Powell | White: TBA
Red-White World Series Rosters:
RED
SS Logan Gray
CF Dylan Riner
2B Alex Robles
1B Dre Gleason
3B Garrett Copeland
LF Wesley Purcell
C Britte Underwood
RF Matt Meadows
Pitchers
Zach Hall
Jared Carkuff
Caleb Powell
Zach Walton
Shane Lantigua
Mark Hendrick
Jack Cleary
Alex Robles
Coaches
Joel Mangrum
Derrick Dunbar
WHITE
LF Cayce Bredlau
2B Kevin Corey
CF Chase Hamilton
C Ridge Smith
DH P.J. Torres
RF Tommy Hager
1B Mason Dillon
3B Griffin Ganick
Pitchers
Levi Primasing
Ryan Quick
Alex Belew
Jake Corum
Don Whitson Jr.
Jordan Harmon
Chase Morris
Tommy Hager
Coaches
Gary McClure
Skyler Barnett
Will not play during series: Rolando Gautier, Kacy Kemmer, Hunter Lindley, Matt Wollenzin, A.J. Gaura and Caleb DeLee.