Clarksville, TN – Are you familiar with Clarksville's Gateway Chamber Orchestra? For the last five years, the ensemble – made up of Austin Peay State University music faculty and other professional musicians – has hosted acclaimed performances of classical masterworks and garnered serious Grammy consideration with their two recorded albums.
Still, the orchestra sometimes feels like a well-kept secret. That's why they've kicked off the "Get to know the GCO" campaign this year, with the intention of showcasing the different components of this incredibly talented ensemble.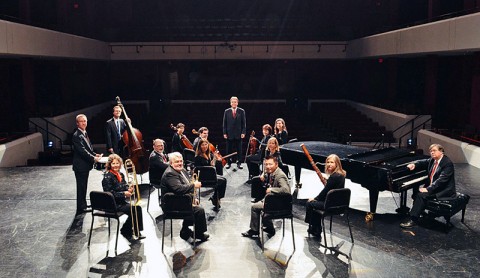 At 3:00pm on October 27th, the GCO will highlight its string section with the concert "Romantic Strings," in the APSU Mabry Concert Hall.
"We're going to feature that section of the orchestra in what I believe will be the most beautiful concert we have ever performed," Dr. Gregory Wolynec, conductor and GCO music director, said.
The concert follows the orchestra's now famous "three-legged stool" approach to programming, with the performance featuring an established masterwork, an overlooked masterwork and a piece by a contemporary American composer. The evening will begin with Austrian composer Franz Schrecker's underperformed "Intermezzo" for strings.
"His music is very lush, very colorful, and this piece has a beautiful melody and some very interesting harmonies," Wolynec said.
The GCO will then perform American composer Aaron Copland's "Clarinet Concert." Copland wrote the piece for jazz clarinetist Benny Goodman, and the work contains several jazz-influenced melodies. But Goodman found the work too difficult, and he had Copland rework the clarinet's contribution. Mingzhe Wang, GCO clarinetist and APSU associate professor of music, will perform Copland's original, challenging composition.
"The first time I heard this piece in high school, I feel in love with it immediately," Wolynec said. "And Clarksville audiences are very fortunate to have a clarinetist as talented as Mingzhe Wang. He's going to play the original sketch."
The GCO's string section will follow up this piece with Gustav Mahler's masterwork, "Adagietto" from his "Symphony No. 5." The Austrian composer, now enjoying a resurgence of popularly some 100 years after his death, wrote the piece as a love letter to his wife, Alma.
"I have never been as excited to conduct a piece of music as I am about this," Wolynec said. "I don't know that music gets more beautiful than this particular piece. It's a 10-mintue love letter from Gustav to his wife. But it's not syrupy sweet. It's very profound."
The evening will conclude with a performance of English composer Benjamin Britten's "Simply Symphony." The late composer, who was born 100 years ago this year, incorporated several elements of his youthful musical education into this work.
"It's his 'Simple Symphony,' which is a very misleading title," Wolynec said. "It is very difficult for the orchestra. The work itself is very interesting. As a little kid, he wrote lots of music but none of it was any good. As a young celebrated composer, he took a number of ideas from those youthful works and turned it into this beautiful piece for a string orchestra."
The orchestra will host an encore performance of "Romantic Strings" at 7:30pm on October 28th at the Downtown Presbyterian Church in Nashville, TN.
For more information on the "Romantic Strings" concert, the GCO 2013-14 season or to purchase tickets, visit the orchestra's website, www.gatewaychamberorchestra.com .