San Francisco 49ers (4-2) vs. Tennessee Titans (3-3)
Sunday, October 20th, 2013 | 3:05pm CDT
LP Field | Nashville, TN | TV: FOX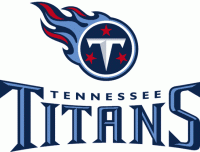 Nashville, TN – The Tennessee Titans (3-3) host the defending NFC Champion San Francisco 49ers (4-2) this week. The late afternoon kickoff at LP Field (capacity 69,143) is scheduled for 3:05pm CDT on Sunday, October 20th.
The contest has been designated as the team's annual "Code Blue" game. Fans are encouraged to wear Titans blue to work and school during the week, as well as to the game Sunday, and all fans in attendance at LP Field will receive Code Blue T-shirts. This is the sixth consecutive season the Titans have held a Code Blue game.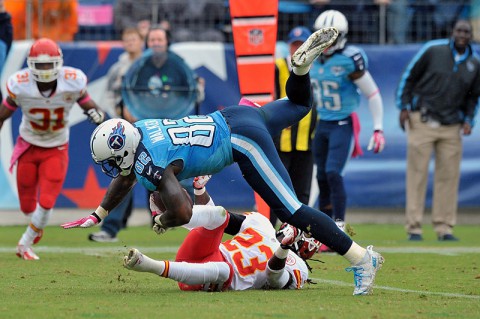 This week's game will be televised regionally on FOX, including Nashville affiliate WZTV Fox 17. Chris Myers will handle play-by-play duties while Tim Ryan provides analysis and Jennifer Hale reports from the sidelines.
The Titans Radio Network, including Nashville flagship 104.5 The Zone, will broadcast the game across the Mid-South with the "Voice of the Titans" Mike Keith, analyst Frank Wycheck, sideline reporter Cody Allison and gameday host Larry Stone.
Additionally, Sports USA will broadcast the game to a national radio audience. Larry Kahn (playby-play), John Robinson (analyst) and Troy West will have the call.
Last Week At Seattle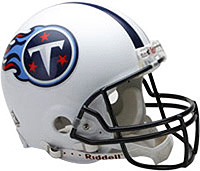 The Titans traveled to Seattle last week to play their first of three consecutive games against NFC West foes. In a game that was tied 10-10 at the start of the fourth quarter, the Seahawks surged ahead for a 20-13 victory.
The Titans scored on a pair of field goals from Rob Bironas and a 77-yard fumble return for a touchdown by Jason McCourty on the final play of the first half.
At quarterback, Ryan Fitzpatrick received his second consecutive start while Jake Locker continued to sit out with hip and knee injuries he suffered against the New York Jets on September 29th. The Seahawks defense limited Fitzpatrick to 171 yards and intercepted two of his passes en route to their victory.
Still, the two fumble recoveries by the Titans defense helped keep the club's turnover ratio at plus-eight, which is the second-highest mark in the NFL. The Titans also rank 11th in total defense, eighth in scoring defense, tied for seventh in sacks.
The 49ers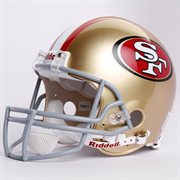 Led by Jim Harbaugh, who is in his third season as head coach, the 49ers are hopeful of returning to the Super Bowl for a second consecutive season. In 2012, they went 11-4-1 in the regular season to capture their second straight division crown, and in the postseason, they advanced to Super Bowl XLVII, only to fall just short in a 34-31 loss to the Baltimore Ravens.
Colin Kaepernick is in his third NFL season but his first full campaign as San Francisco's fulltime starting quarterback. In 2012, he was promoted to the starting role with seven games remaining in the regular season. He responded by registering a 98.3 passer rating and rushing for 415 yards. His 2013 totals include 1,221 passing yards, eight touchdowns and five interceptions to go along with 172 rushing yards.
The 49ers are in second place in the NFC West standings, one game behind the 5-1 Seahawks. They have won three consecutive games after dropping their second and third games of the season. Last week they hosted the Arizona Cardinals and won by a final score of 32-20.
Kaepernick passed for 252 yards, which included a career-high 180 receiving yards by tight end Vernon Davis. Running back Frank Gore added 101 rushing yards in the victory.
Titans Foundation Coat Drive
Prior to the game, fans are encouraged to participate in the annual Titans Foundation Coat Drive. New and used coats of all sizes can be dropped off at one of several collection sites around LP Field, where volunters from the YMCA's Black Achievers program will be stationed to collect the donations. The coats subsequently will be delivered to several Middle Tennessee non-profit agencies.
Titans-49ers Series At A Glance
Overall series (regular & postseason): 49ers lead 7-5
Regular season series: 49ers lead 7-5
Postseason series: None
Total points: Titans 243, 49ers 265
Current streak: Two wins by Titans
Titans at home vs. 49ers: 2-4
Titans on the road vs. 49ers: 3-3
Longest winning streak by Titans: 2 (twice, 1975-78, 2005-09)
Longest losing streak by Titans: 4 (1981-90)
Titans vs. 49ers at LP Field: 1-0
Last time at LP Field: 49ers 22 at Titans 33 (11/27/05)
Titans vs. 49ers at Candlestick Park: 3-3
Last time at Candlestick Park: Titans 34 at 49ers 27 (11/8/09)
First time: 49ers 30 at Oilers 20 (11/15/70)
Mike Munchak's record vs. 49ers: 0-0
Jim Harbaugh's record vs. Titans: 0-0
Mike Munchak's record vs. Jim Harbaugh: 0-0
A Titans Victory Would
Give the Titans an all-time record of 72-44 in regular-season games at LP Field.
Improve Mike Munchak's career record as a head coach to 19-20.
Give quarterback Ryan Fitzpatrick a 25-45-1 career record as a starter.
What To Look For This Week
This week's game is the 150th Titans game at LP Field, including all preseason, regular season and postseason contests.
K Rob Bironas can play in his 135th consecutive game, which would tie Elvin Bethea and Keith Bulluck for fourth place on the franchise's all-time list.
RB Chris Johnson
can record the 34th 100-yard rushing game of his career.
RB Chris Johnson needs one touchdown to become the fourth player in franchise history with 50 touchdowns, joining Eddie
George (74), Earl Campbell (73) and Charlie Hennigan (51).
RB Chris Johnson (8,969 scrimmage yards) needs 31 scrimmage yards to become the third player in franchise history to reach 9,000 scrimmage yards, joining Eddie George and Earl Campbell.
WR Nate Washington can extend his streak of consecutive games with at least one reception to 85 (71 games with the Titans).
WR Kendall Wright needs five receptions to reach 100 for his career and 39 receiving yards to reach 1,000 for his career.
Titans-49ers Series History
In total, the Titans and 49ers have met only 12 times since the AFL-NFL merger in 1970. The 49ers lead the series 7-5, although the Titans enter this week's contest with a two-game winning streak over the 49ers.
Most recently, on November 8th, 2009, the Titans traveled to Candlestick Park and escaped with a 34-27 victory, thanks in large part to scoring 24 points off four turnovers. Chris Johnson scored two touchdowns and totaled 135 yards on a then-career-high 25 carries.
In the 49ers' first and only visit to LP Field, on November 27th, 2005, Titans quarterback Steve McNair passed for 343 passing yards in a 33-22 win. He was 23-of-41 with three touchdowns in the game, including a 41-yard touchdown pass to running back Chris Brown and a 50-yarder to rookie wide receiver Roydell Williams. The defense recorded interceptions by linebacker Keith Bulluck and cornerback Reynaldo Hill, while defensive end Kyle Vanden Bosch tallied two sacks.
The Titans played a memorable game at Candlestick Park in 1999, when the 3-0 Titans were still in the beginning stages of their run to Super Bowl XXXIV. Highlights included a 54-yard touchdown pass from Titans quarterback Neil O'Donnell to Eddie George and a blocked punt by Anthony Dorsett.
The 49ers eventually took the lead on Jeff Garcia's 22-yard touchdown pass to Terrell Owens. Late in the fourth quarter, the Titans trailed 24-16 when O'Donnell found wide receiver Yancey Thigpen for a 32-yard touchdown. The Titans attempted a two-point coversion to tie the game, but a stubborn 49ers defense tackled George short of the goal line to preserve the San Francisco victory.
The initial Oilers-49ers game occurred in Houston on November 15th, 1970. The 49ers won 30-20, one of 10 regular season victories that year for the eventual NFC West Champions.
Titans-49ers: The Last Meeting
Tennessee Titans 34 at San Francisco 49ers 27
Sunday, November 8th, 2009
Candlestick Park, San Francisco, CA
| | | | | | |
| --- | --- | --- | --- | --- | --- |
| | 1 | 2 | 3 | 4 | Final |
| Tennessee Titans | 3 | 7 | 7 | 17 | 34 |
| San Francisco 49ers | 3 | 14 | 0 | 10 | 27 |
In Week 9 of the 2009 season, a 39-yard interception return for a touchdown by Titans cornerback Cortland Finnegan was the difference in a 34-27 victory over the San Francisco 49ers at Candlestick Park.
Finnegan's touchdown, the fourth turnover of the game by 49ers quarterback Alex Smith, put the Titans ahead 34-20 with 2:51 on the clock in the fourth quarter.
The 49ers cut the lead in half to provide a bit of late drama. They took the ensuing kickoff and went 78 yards on 11 plays, scoring on a three-yard pass from Smith to wide receiver Jason Hill with 39 seconds remaining in the game. However, Joe Nedney's onside kick attempt was recovered by Titans linebacker Gerald McRath, sealing the win for the Titans.
The 49ers took an early lead on their first drive of the game with a 40-yard field goal by Nedney.
The Titans tied the game on the next drive. A 49-yard pass from Vince Young to Justin Gage helped set up a 21-yard field goal by Rob Bironas.
Late in the first quarter, Titans safety Michael Griffin tipped a pass by Smith. Cornerback Rod Hood caught the deflection and raced 43 yards the opposite way, setting up a seven-yard touchdown run by Young.
The 49ers responded, driving 73 yards on six plays, including a 40-yard pass from Smith to tight end Vernon Davis. Gore concluded the series with a three-yard touchdown run.
The score remained tied until late in the second quarter. The 49ers gained control at their own 18-yard line with three and a half minutes on the clock. Nine plays later, they took the lead on a 12-yard touchdown from Smith to Hill with 20 seconds remaining before the half.
The Titans tied the game in the third quarter after a replay challenge gave them their second takeaway. Defensive end Jacob Ford knocked the ball out of Smith's grasp, and it was recovered by linebacker Keith Bulluck. Initially the ruling on the field was an incomplete pass.
However, the Titans successfully challenged the call and were awarded the ball at the San Francisco 36-yard line. Seven plays later—six of those rushes or pass receptions by Chris Johnson—Johnson crossed the goal line on a oneyard touchdown run.
The 49ers then mounted a long drive to take the lead. They went 66 yards on 15 plays on a series that lasted nine minutes and 45 seconds. Nedney's 25-yard field goal put the 49ers up 20-17 early in the fourth quarter.
Then, an 81-yard touchdown run by Johnson was reversed after the 49ers challenged the play. Replay showed Johnson stepped out of bounds after gaining 41 yards, short of the end zone. However, Young and Gage connected for 33 yards, and on fourth-and-one from the two-yard line, Johnson took a pitch from Young and scored a touchdown.
Johnson finished the game with a career-high 25 attempts for 135 yards (5.4 average) against a 49ers defense that entered the contest ranked first in the NFL in opponents' rushing average (3.3) and second in rushing yards per game (84.9).
Safety Chris Hope intercepted a pass two plays into the 49ers' next drive, leading to a 28-yard field goal by Bironas.
On the 49ers' next offensive play, Vincent Fuller tipped the pass that Finnegan caught and ran back for the deciding score.