Edwardsville, IL – An efficient offensive outing helped Austin Peay State University's volleyball team secure a four-set Ohio Valley Conference victory (17-25, 27-25, 25-14, 30-28) against SIU Edwardsville, Saturday, at the Vadalabene Center.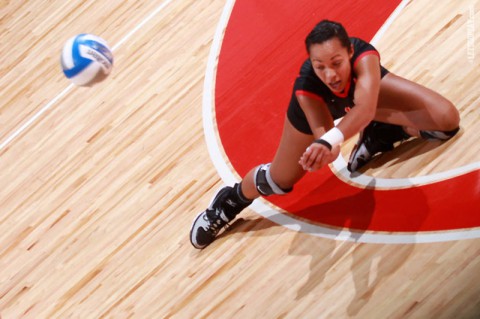 Austin Peay (9-15, 6-2 OVC) secured its second road win this season thanks to an efficient offense.
The Lady Govs recorded 66 kills but limited its miscues to 16 attack errors to finish with a .338 attack percentage that was its second best average this season. Junior Cami Fields and sophomore Aubrey Marsellis combined to record 55 assists in APSU's two-setter offense.
SIU Edwardsville (8-13, 4-4 OVC) opened the match by stunning the Lady Govs with a 25-17 first-set victory. The Cougars led nearly wire-to-wire, taking the lead for good thanks to a 7-0 run that built an 8-2 lead.
The second set was a back-and-forth affair with each team piecing together a big run. Austin Peay struck first with a 10-3 run that turned an 8-5 SIUE lead into a 15-11 APSU advantage.
The Cougars responded with a 7-3 run to tie the set at 18-18. The Lady Govs would get to set point first, 24-23, on a kill by senior Lauren Henderson, but saw SIUE score consecutive points to gain its own set point at 25-24. Austin Peay fended off that set point and scored three straight points – two courtesy kills by junior Jada Stotts and one on a Henderson service ace – to win the set, 27-25.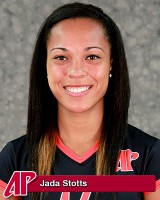 Austin Peay had an easier time winning the third set. The Lady Govs used a 10-4 run to break open a set that was tied 5-5 early. Austin Peay built on that 15-9 lead and sealed the victory with an 8-3 run for the 25-14 victory.
The fourth set gave fans their full money's worth – SIUE and APSU battling through an incredible 18 ties and 10 lead changes in a set that went into overtime. Neither team led by more than three points in the set – SIUE holding a 13-10 edge that was the set's largest. The Cougars got to set point first, 25-24, only to see the Lady Govs wipe it away with a Stotts kill.
SIUE had three opportunities to win the set and extend the match that it could not grab. Meanwhile, APSU had match point twice – once at 26-25 that fell by the wayside before it capitalized at 29-28 on a Marsellis kill to win 30-28.
"We were incredibly efficient on offense tonight," said Lady Govs head coach Taylor Mott. "Cami and Aubrey did a great job running the offense and our hitters just plain got the job done. It was nice to see this team bounce back from a tough loss at Eastern Illinois and pick up a big road win."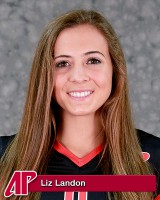 Stotts bounced back from a sub-par effort at Eastern Illinois, Friday night, to lead Austin Peay with 18 kills and a .326 attack percentage. Marsellis added a career-high 13-kill performance and finished with a .500 attack percentage. Henderson was credited with 12 kills, two service aces and four blocks. Junior Liz Landon had an errorless attack outing and finished with nine kills.
SIUE saw four players record more than 10 kills, but recorded only 55 kills as a team at a .226 attack percentage. Kelsey Augustine led the Cougars with 13 kills.
Austin Peay and SIUE will meet again in six days when the Lady Govs begin a five-match homestand against the Cougars at 7:00pm, Friday in the Dunn Center.
Box Score
Austin Peay vs SIU Edwardsville
(October 19th, 2013 at Edwardsville, IL)
Austin Peay
ATTACK
SET
SERVE
SRV
DEF
BLOCK
GEN
##
Player
SP
K
E
TA
PCT
A
SA
SE
RE
DIG
BS
BA
BE
BHE
Points

4

EBRIGHT, Sammie

4

7

3

20

.200

2

0

0

0

2

0

0

0

0

7.0

7

MARSELLIS, Aubrey

4

13

2

22

.500

24

0

2

0

9

0

2

0

0

14.0

8

LANDON, Liz

4

9

0

12

.750

1

0

1

0

7

0

0

0

0

9.0

10

STROTHER, Samantha

4

6

3

17

.176

1

0

0

1

3

0

0

0

0

6.0

12

HENDERSON, Lauren

4

12

4

32

.250

1

2

2

0

4

2

2

1

0

17.0

14

STOTTS, Jada

4

18

4

43

.326

0

2

1

1

15

0

0

0

0

20.0

1

FIELDS, Cami

4

0

0

1

.000

31

0

0

0

7

0

0

0

4

0.0

3

ADAMS, April

4

1

0

1

1.000

1

0

0

3

18

0

0

0

0

1.0

13

LITCHFIELD, Syd

4

0

0

0

.000

2

0

2

3

6

0

0

0

0

0.0

Totals

4

66

16

148

.338

63

4

8

8

71

2

4

1

4

74.0

TOTAL TEAM BLOCKS: 4.0
TEAM ATTACK BY SET
Set
K
E
TA
Pct
Sideout
Pct

1

13

4

27

.333

15-25

60%

2

20

4

44

.364

14-25

56%

3

12

3

31

.290

13-15

86%

4

21

5

46

.348

17-28

60%

59-93

63%

SET SCORES
1
2
3
4
TEAM RECORDS

Austin Peay

(3)

17

27

25

30

9-15, 6-2 OVC

SIUE

(1)

25

25

14

28

8-13, 4-4 OVC
SIUE
ATTACK
SET
SERVE
SRV
DEF
BLOCK
GEN
##
Player
SP
K
E
TA
PCT
A
SA
SE
RE
DIG
BS
BA
BE
BHE
Points

2

HARRIS, Cori

4

6

4

29

.069

1

3

1

2

11

0

3

1

0

10.5

6

AUGUSTINE, Kelsey

4

13

1

23

.522

0

0

1

0

3

0

4

0

0

15.0

10

SCHUMACHER, Kasey

4

0

0

1

.000

1

1

2

0

8

0

0

0

0

1.0

11

HELD, Taylor

4

11

6

38

.132

0

0

0

0

1

0

2

0

0

12.0

15

TORRE, Kristen

4

11

2

21

.429

0

0

0

0

4

0

1

0

0

11.5

19

MANGUN, Mallory

4

3

1

12

.167

48

3

1

0

10

0

1

0

1

6.5

4

STREETAR, Alicia

4

11

6

30

.167

0

0

0

0

0

0

0

0

0

11.0

7

NORRIS, Haley

4

0

0

0

.000

2

1

1

0

9

0

0

0

0

1.0

8

COLCLASURE, Chelsea

4

0

0

0

.000

1

0

1

2

14

0

0

0

0

0.0

18

O'REILLY, Kaitlyn

1

0

0

1

.000

1

0

0

0

0

0

0

0

0

0.0

Totals

4

55

20

155

.226

54

8

7

4

60

0

11

1

1

68.5

TOTAL TEAM BLOCKS: 5.5
TEAM ATTACK BY SET
Set
K
E
TA
Pct
Sideout
Pct

1

12

0

24

.500

15-17

88%

2

15

6

42

.214

14-27

51%

3

10

8

38

.053

12-24

50%

4

18

6

51

.235

17-30

56%

58-98

59%

Site: Edwardsville, Ill. (Vadalabene Center)
Date: Oct 19, 2013 Attend: 285 Time: 1:53
Referees: Brian Heaton, Bob Bayless


| | | | | | |
| --- | --- | --- | --- | --- | --- |
| | 1 | 2 | 3 | 4 | Total |
| Tie scores | 2 | 9 | 4 | 18 | 33 |
| Lead changes | 1 | 4 | 0 | 10 | 15 |