Clarksville, TN – The Go Commando Half Marathon & 5k, powered by CDE Lightband, announced Tuesday they would donate over $50,000 to local non-profits and community organizations.
The largest recipients, the Clarksville Area YMCA and the Fort Campbell Historical Foundation, were both on hand to accept donations of $15,000 each. Christy Batts, Broadband Division Manager for the Clarksville Department of Electricity, was also in attendance to present the checks to the recipients.
"CDE Lightband is committed to supporting Go Commando's mission of promoting health and wellness in Clarksville-Montgomery County and Fort Campbell," said Batts. "We are very pleased to be a working with an organization whose proceeds positively benefit so many in our community."
The Go Commando Half Marathon & 5K, powered by CDE Lightband, has contributed over $125,000 over the past three years to several charitable organizations.
The money given to the Clarksville Area YMCA will be contributed to their Annual Giving Campaign, which funds outreach programs such as their ABC Outreach and Restore Ministries. ABC Outreach allows breast cancer survivors to attend a 16-week course to rebuild strength as well as, educating and empowering participants as they continue to heal. Restore Ministries works to provide healing and hope for those struggling with life's toughest issues.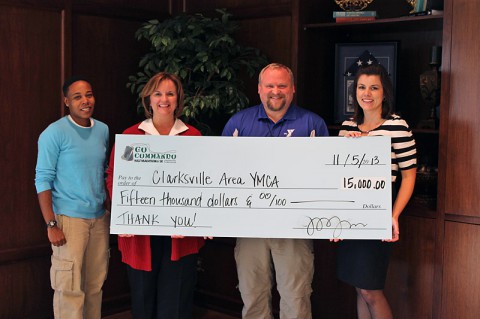 James "O'Bee" O'Bryant, Executive Director, accepted the check on behalf of the Clarksville Area YMCA. "The Go Commando Half Marathon & 5K has given valuable financial resources to the Y, which have allowed us to better promote good health in Clarksville as well as offer valuable outreach programs, like After Breast Care and Restore Ministries, to our community," said O'Bryant.
The Fort Campbell Historical Foundation provides support and assistance to Fort Campbell soldiers and their families. The Foundation works closely with the Don F. Pratt Military Museum and oversees plans for the future Wings of Liberty Military Museum.
"We are grateful for the contribution and what it means to our military community," said Robert Nichols, Executive Director of the Fort Campbell Historical Foundation. "We look forward to being a part of Go Commando in 2014."
Additional community organizations which received donations are: American Cancer Society, Austin Peay State University Mass Communications Department, Austin Peay State University Track Team, Clarksville Association for Down Syndrome, Clarksville Family Adoption Association, Clarksville Running Club, Courage Beyond, Filipino American Association, Fort Campbell Fisher House, Fort Campbell High School Cheer Team, Green Beret Foundation, Montgomery Central JROTC, Premier Medical Group's Sunshine Fund, Sunrise Rotary, and Team Red, White & Blue Nashville.
In its third year, the Go Commando Half Marathon and 5k, powered by CDE Lightband saw a combined total of 2,000 registrants. The economic impact of the weekend was an estimated $54,000 and nearly 450 volunteers were on hand to assist during the event.
About Go Commando
Go Commando Half Marathon & 5K is an entity of the Clarksville-Montgomery County Convention & Visitors Bureau. The race is a community-driven event formed to promote health and wellness, as well as support causes that make a difference in the city-county.
For more information about Go Commando contact the race director, Jessica Goldberg, at Jessica@clarksville.tn.us.