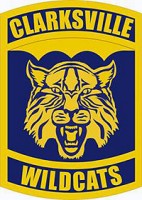 Clarksville, TN – After finishing two outstanding prep careers at Clarksville High School, golfers Hunter Richardson and Megan Beane made their college intentions official — in a signing ceremony on November 22ndin the school's cafeteria — with Richardson signing with the University of Tennessee-Martin and Bean with the University of Memphis.
Richardson is coming off his best year at CHS, winning both the District 10-AAA and Region 5-AAA individual titles, with finishing tied for eighth place at the TSSAA State Golf Championships with a four-over par 148 (72-76).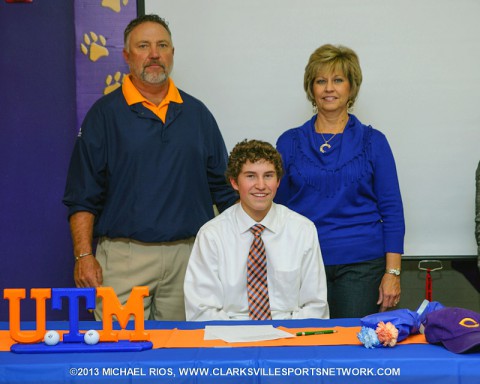 "It's a relief to get this done and I guess it's been a long time coming," Richardson said. "It's just a relief to know where I'm going and where I'm going to play for the next four years."
Richardson picked the Skyhawks over Austin Peay, Missouri, Lipscomb, and Central Florida.
"This just being by second year of coaching, this is the first signing that I've had," CHS boys golf coach Adam Welch said. "I'm so excited for his to move on to the next level and I know that he will do great. The sky's the limit for him. If he continues on the train he's on, I can see him playing professionally someday."
Richardson will join another former local prep standout at UTM in Tyler Guy, who played at Rossview High School.
"A lot of my friends go to Martin and that was another big deal," Richardson said. "Tyler and I will be rooming together next year, so he can show me the ropes."
Beane will be heading to Memphis after a four-year run with the Lady Wildcats that saw her make the state tournament field each year — including being a part of back-to-back state championship teams in 2011 and 2012.
"I feel good about my choice, because it feels like family there," Beane said. "To be able to go down there and be a part of something, to work for something, it's exciting.
"Another reason I chose Memphis was coach (Beth) Harrelson and (assistant) coach Sally Andrews are great and I just love their personalities and how they run things."
Beane had several schools' inquire about get her to join their programs, but for Beane it came down to Austin Peay and Memphis, with the Tigers finally being her chose.
"Austin Peay and Memphis were really the only two I pursued," Beane said. "Some other schools also made contacts, but I told them no, because I really didn't want to waste their time."
In her four trips to the state tournament, Beane never finished lower that 24th place, with top-14 place finishes the past three years – including a best 9th-place finish her sophomore season.
"Megan makes my fifth golfer to play at the collegiate level," CHS girls golf coach Vickie Moncrief said. "She has been a big part of our success the past four years, going to state four times – twice as part of a team and twice as an individual – but as much as she's an assist on the golf course, she's also an assist off the golf course. She's just a fantastic an all-around wonderful young lady."
Photo Gallery