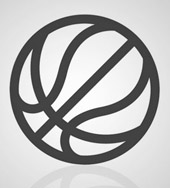 Clarksville, TN – Before inclement weather closed schools at the end of the week, a lot of teams played against conference opponents for the first time.
Some teams are already setting themselves apart with strong play. Others are just now getting all their players with football coming to a close. Regardless, the season is still young and fans can warm themselves on the heated competition blazing on the courts.
Girls Basketball
The Rossview Lady Hawks continue to soar without the taste of defeat. This week they imposed their will on District 10-AAA opponents, the Northwest Lady Vikings.
Alonja Thomas helped the Kenwood Knights deal the Henry County Lady Patriots their first loss of the season. Thomas scored 27 points.
The Clarksville High Lady Wildcats earned their first win of the season in their District 10-AAA opener against the Northeast Lady Eagles. Lady Wildcat Haley Bearden scored 19.
The West Creek Lady Coyotes and Montgomery Central Lady Indians both split games this week while Springfield and Clarksville Academy remained winless.
High Scorers:
Alonja Thomas 27 against Henry County Tuesday, December 3rd
Tyisha Worthy 16 against Springfield, Tuesday, December 3rd
Haley Bearden 19 against Northeast, Tuesday, December 3rd
Records:
Rossview 5-0
Henry Co. 5-1
West Creek 3-4
Kenwood 2-3
Northeast 1-5
Northwest 1-5
Clarksville 1-5
Springfield 0-6
Montgomery Central 2-3
Clarksville Academy 0-4
Boys Basketball
All eyes were on the Kenwood Knights and the Northeast Eagles in District 10-AAA play this week. The Knights got their first conference win against the Henry County Patriots. Daniel Norl continued to impress with 24 points.
The Eagles earned their second conference win against Clarksville High.
The Rossview Hawks also got a conference win against the struggling Northwest Vikings. Donterius Peacher scored 23 points. Tramon Moore scored 32 for the Vikings.
The West Creek Coyotes split games this week. First, they got a conference win against Springfield, but later fell to Cheatham County.
Both the Montgomery Central Indians and the Clarksville Academy Cougars also earned wins this week.
High Scorers:
Austin Fisher 37 against Houston County Tuesday, December 3rd
Moe Pressley 26 against Springfield Tuesday, December 3rd
Daniel Norl 24 against Northeast Tuesday, December 3rd
Records:
Northeast 5-2
Kenwood 5-1
Springfield 2-3
Rossview 2-3
Northwest 1-6
Henry Co. 1-6
West Creek 2-6
Clarksville 0-6
Montgomery Central 3-3
Clarksville Academy 3-3
To insure your team's information is posted in the weekly recap please send records and scores via e-mail to Marlon Scott at