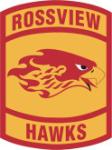 Clarksville, TN – The Rossview Lady Hawks continued to prove they are the team to beat in District 10-AAA with their third conference win in a row, this time at home Friday night against the Northeast Lady Eagles, 73-44.
"I thought our intensity and our energy was good. I though our length bothered them some. I thought our size was a big factor," Lady Hawks head coach Justin Wood said. "We had several second chance points in the first quarter especially. We did a good job of disrupting what they were trying to do offensively."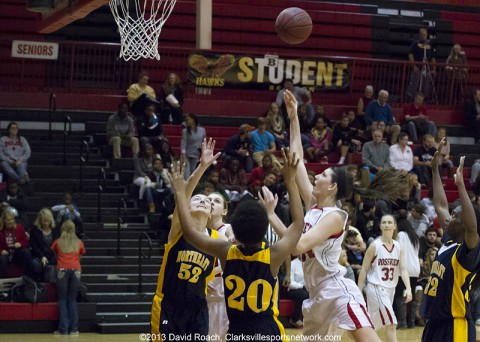 The trio of Janie White, Mickey Head and Jamiah Harrison are a force in the paint no team has come up with an answer for. Any two of the three were on the floor most of the night, crashing the boards and contesting the shots of the Lady Eagles.
They also seemed to score at will in the paint. According to Wood, that was due to the play of senior guard Ashley Powers.
"I thought Ashley Powers dominated the game. She had 16 assists and three turnovers. She had the ball in her hand all night, took care of it and made plays when we had to have them," Wood said. "I thought that was the difference really for us offensively. She just took control of the game."
White led the team with 21 points and nine rebounds. Harrison scored 18 with six rebounds. Head added 11 and Powers had five points to go with her 16 assists. Nine different Lady Hawks scored in the game.
The Lady Hawks outscored the Lady Eagles 21-6 in the first period. The Eagles scored only 19 points in the first half.
Sepe Moore score 12 of the Lady Eagles 19 points in the first half. She finished the game with 20 points.
The Lady Eagles made three, 3-pointers in the third period. It was the only period they outscored the Lady Hawks, 16-10.
"Second half, I thought their pressure bothered us, " Wood said. "We got a little frantic, not running our stuff, not being patient, a little wild with the ball. But we were able to settle down late."
The Lady Hawks settled down by opening the fourth period with a 16-3 run. Their defense held the Lady Eagles to only nine points in the last period, sealing a dominating win.
The Lady Hawks remain undefeated at 7-0 overall, 3-0 in the conference. The loss makes the Lady Eagles 2-7 overall, 1-3 in the conference.
Photo Gallery
Box Score
Rossview 73, Northeast 44
| | | | | | |
| --- | --- | --- | --- | --- | --- |
| | 1 | 2 | 3 | 4 | Final |
| Rossview Lady Hawks | 21 | 22 | 10 | 20 | 73 |
| Northeast Lady Eagles | 6 | 13 | 16 | 9 | 44 |
Rossview: Janie White 21, Jamiah Harrison 18, Mickey Head 11, Haylee Croom 6, Kiara Fisher 4, Ashley Powers 5, Karie Pace 4, Samajia Ogburn 2, Anna Exposito 2
Northeast: Sepe Moore 20, Ashanti Henry 9, Jazzmyn Simpson 7, Nataszja Freeman 6, Brook Burnett 2