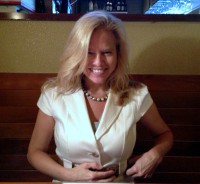 Nashville, TN – A homeless kitten at the riverfront I call Tiny Titan scratched me today.  It didn't break the surface of my skin. It was not quite paper-cut serious and barely visible—done only because I had tried to pet his head while he was eating from the Friskies can I'd brought him.  But the "wound" cut deeper into my psyche than could be easily understood.

For the past nine months, I'd been feeding the feral cats that live along the Cumberland River in Downtown, Nashville.  (For those of you who don't live in Nashville, the downtown riverfront boasts the historic Fort Nashborough, park and concert open space areas, and the Cumberland River Greenway—a nearly 8-mile walking/jogging path—with the Titans Football Stadium in view on the other side.)

I had been struggling with the possibility of saving one or more of them, but they don't make it easy to be saved.  They often cannot be touched.

They want to reach out to you—you do have food after all—but any trust that builds up is tentative.  For they know instinctively that they must pull back, or risk danger. The dance with a feral cat becomes an artful ballet.

Homeless cats teach you a lot about trust. 

Spinning into a new life, one where I was not yet settled or placed with any sort of permanence, I had a lot to re-learn my own version of the "trust dance."  Jogging along the path on an unseasonably warm February day last winter, I came upon two or three cats "lounging around" the tires of cars in the government parking lot adjacent to the one part of the path.

I looked toward where they ran behind a fenced area that slopes down to the river—their habitat it appeared.  I saw tinfoil pans filled with dry food and tied with string to the chain links.  Someone was feeding them. But who?

I was stunned as one looked remarkably like one of my cats from back home who ran away before I could get back from my first trip to Nashville to retrieve him.  He bolted from the house sitter just days before my arrival, never to return.

It broke me inside, losing that cat.  Mario was an all-black kitten – small and nimble but confident and full of swagger.  He wasn't afraid of anything.  He literally followed our much bigger dog, Sydnee, (an all-black Lab mix) home one day and seemed to say "hello, I'm your new cat and this dog is my mother!"

Mario "LeMeow" (named for Mario Lemieux of the Pittsburgh Penguins) was inseparable with the dog and they were so comfortable together that Syd could put the diminutive cat's head in its mouth with no harm, and little more than a soft meow.

Seeing this carbon copy of my beloved missing cat brought me to my knees. "My Mario!" I called.  "You walked all the way to Nashville!" I cried out to his little black form, with the same petite gait and mannerisms.

I sat there in my enclosure of grief on the dank concrete and let the lump in my throat explode and the tears start to spill.  There, amidst the crinkled pie plates, pans of water, and strewn riverfront trash, I sat and let it roll.

Just then a male jogger turned the corner, with a look of surprise to find a woman kneeling and crying out to a cat.  What must he think of me?  I wiped tears on my running jacket sleeve. To my surprise, he knelt down in silence for a minute and then cooed to "Mario," who was finishing his meal and licking his paws with the other calicos and white/gray cats.

"You must think I'm crazy, I blurted out between tears, trying hard not to lose all composure.

"No I don't at all," "I like cats too," he said softly with all the seriousness that I needed at that moment to not feel foolish.  I never saw that man again, but in my ritual visits to the riverfront, other cat lovers would occasionally stop to chat and bend down to the little creatures behind the fence who were surprisingly well-groomed, well-fed and healthy looking.

I started bringing food.  I was in a team-player position with unknown partners and it just seemed to work out that whatever days the mystery feeders didn't get there, I did.  They brought the dry food and water.  I brought the wet treats in a can.

At one point I worried that maybe the few cats I'd seen so far were indicative of a much larger colony of hungry, homeless cats, scrounging and toughing it out along the banks of the lazy Cumberland. Safe and sheltered in my bed at night, I imagined them all hissing and fighting over the tin pans—or if it rained, I pictured them scrambling for cover in the abandoned brick structure next to their feeding area.

Then one day while on a hard run, I met (let's call them) "Harry and Alice."  As I turned the bend to the cat habitat, there was a mid-60's looking couple with gray hair cooing and actually petting the cats I'd come to know.  I was sweating badly and felt like a mess, but as I stopped abruptly, I couldn't hide the smile that was taking over my face.  "You're the people who feed the cats!" I exclaimed.

"You're the one who has been feeding them too!" they said beaming.

"Yes," I said. I found that man had recently retired from the government and had worked in one of the offices by the river.  He parked there every day for years and began feeding and getting acquainted with the cats.  When he no longer had to go into work, he couldn't bear to part with the felines.

It was he and his wife who tied the pie pans to the fence and both of them were now driving in from Smyrna (a 24-mile trip one-way) to lay out the food and fill the water pans religiously.  They were able to answer a lot of my lingering questions.  There was not a large colony as I had feared; just four to six cats at any given time.  And they had names for every one.

My "Mario" was actually named "Midnight." There was also a Sam, Spot, and a George.  I didn't realize how important George would eventually become to me, as in the days that followed, I started to see less and less of Midnight (now called "Midnight Mario") and the other felines.

I mentioned the cats to a musician friend of mine, Mark Mulch, of the "Mulch Brother's" a well-known duo based in Nashville and a busy touring and recording band.  Mark loved cats and lived further down the riverfront at a condo.  One day he sent me a picture of a cat that had been coming to his door frequently and who he began feeding.

Sure enough, "Midnight Mario" had moved his territory down to Mark's place.  We couldn't believe the coincidence, and I was able to tell Harry and Alice via email that Midnight was a live and well and living at a riverfront condo with a view.

Homeless cats can teach you a lot about moving on…

While Harry and Alice mourned Midnight's departure, I understood.  The cat colony was evolving and changing.  They were a bit upset that George seemed to be chasing the others away and being aggressive.  I noticed the changes too.

If George was getting more of the feedings, he was doing it with charm.  He started coming closer and laying down on the ground and rolling around, showing his belly.  Over time, he began to trust enough to let me pet the top of his head.  He eventually became the last cat standing at that particular habitat.  The survivor.

Our bond increased.  Most times, he didn't want me to leave and would begin to follow as far along the river wall as he could as I made my way home. It was breaking my heart. I thought of the enormous logistics of capturing and saving an unfixed male cat.  It was going to start getting cold.  I started mulling it over some more.

Then one day, a Sunday, a group of Titan-shirted fans were walking back from the stadium after the game.   Some rugged-looking men called out "if you feed that cat, he'll stay with you – don't do it!"  I yelled back something that launched into the wind and died there, half-hearted.  "What did I care what they thought?"

Nearby, a man with few teeth was sitting on one of the benches near the river where many homeless spend the night.  I looked to him with a smile and could sense his compassion for the cat's plight.  He shook his head at the passers-by.  I worried if any other (perhaps drunk) fans might walk by and not take kindly to George.

Then the next group approached; they appeared to be a nice-looking family.  I saw a mother who could have been me in my old life, (except she was wearing a Titan's Blue and White game jersey, rather than a Steelers one) a man who appeared to be a husband, and several teenage children.  I stopped worrying at this point and started to walk away with my son, Jordan, who had come that day to help feed the cats.

As we were leaving, I turned around to see two of the boys were throwing stones.  Toward my cat, I thought, astonished.  Jordan saw my face starting to turn red.  I started rushing back toward George and the parking lot and the gangly kids in their stupid, misguided game.

I stopped about twenty feet from them and stared them down.  "Did you just throw stones at that cat!?" I asked, more fired up than I could remember being in a long while.  I fixed my position.  The mother and the other adults were busy congregating in the lot and laughing while their van door stood open and George was getting perilously close to walking into their car.  Didn't he know these kids meant him harm?

The boys stood fixed as well, but looked caught—scared even. "Um, uh, we weren't throwing stones at the cat…just playing," they stammered.

"Leave him alone," I pleaded, my voice strong, but quivering a bit inside my head.

He has just gotten to trust a little, please don't let this ruin it, I said to myself.

There were no admonishments from the adults about the stones, no word at all for the seemingly privileged, adolescent kids as they went about their convoy. The girl in the family came over and knelt down, attempting to reverse their tone.  "Oh we LOVE cats! We would never hurt them!" in a buttery sweet voice I couldn't quite believe.

I wanted to tell them that the homeless cats by the riverfront meant more to me than their expensive jersey's, their NFL game, and their shiny van, and that maybe one day they'd understand about trust—about what I'd been trying to build with the cats (and maybe within myself) all these long nine months in my pilgrimages to the riverfront.

I wanted to tell them about the "trust ballet"—how you can think you have the steps down: memorized once again after a long time of losing the ways of the dance, and how you can lose them again, regain them, and lose yet again. But I knew how that would sound.

The group started to get into their car.  I felt fearless and strong, vulnerable and shaky inside all at the same time, perhaps exactly like those in the Wild Cat Colony.  I turned to go and could see Jordan's embarrassed face in the distance.  With George safe, and the stand-off ended, I ran to catch up with him.

Before I could, I passed the homeless man on the bench.  He had witnessed the whole scene and was shaking his head.  "Where I go in the summers to a cabin in the woods, there are a lot of stray cats.  I always feed them what I got.  They need to eat too," he said, and went back to his crumpled papers and bags.

Feral cats can teach you a lot about other people. 

Some, with seemingly everything, can throw stones, and ones with nothing, often give of what they have.  "It's biblical," I said to Jordan when I caught up to him.  "Like an urban parable," I repeated.  Just one of many I am collecting.



About Sandee Gertz
*Sandee Gertz is an author and award-winning poet from Western Pennsylvania whose work focuses on working class and blue-collar themes. Her book, The Pattern Maker's Daughter, is available at Amazon and through Bottom Dog Press (www.smithdocs.net). Her book-length memoir, "Some Girls Have Auras of Bright Colors," (a quirky, coming of age story about growing up with a seizure disorder) is currently making the rounds of literary agents in New York City.   She has a Masters of Fine Art (MFA) from Wilkes University's Creative Writing Program and teaches English at Lincoln Technical College in East Nashville.  She is currently working on a new novel, and occasionally "poem busks" in Printers Alley in Downtown, Nashville.  She can be reached at: .

Web Site: https://www.facebook.com/sandeegertz
Email:
Sections
Commentary
Topics
cats, Cumberland River, dog, Downtown Nashville, Kittens, LP field, Nashville, Nashville TN, Pittsburgh Penguins, Salon 615, Tennessee Titans, Titans