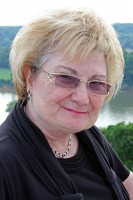 Clarksville, TN – Sue Freeman Culverhouse, long a staff-writer for ClarksvilleOnline.com, features eleven Tennessee authors in her new book. Tennessee Literary Luminaries: From Cormac McCarthy to Robert Penn Warren (The History Press, Charleston, SC, 2013). Her author website, www.sueculverhouse.com, links her readers to information about the book and her upcoming blog.
"I'm tired of people outside Tennessee believing that we're all wearing overalls without a shirt, chewing tobacco, going barefoot, toting six-shooters, and living off road kill," Culverhouse admits. "I want our youngsters to be proud of the literary heritage these and other Tennessee writers have contributed to the world of literature. All of the authors in my book have interesting lives in addition to having written not-to-be missed books."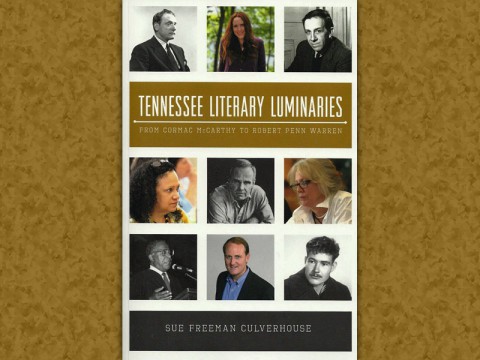 Robert Penn Warren was graduated from Clarksville High School in 1921.
That year, although he had a commission for the U. S. Naval Academy where he hoped to become an engineer, Warren was blinded in one eye through an accident when his brother threw either a rock or piece of coal that landed in his eye.
Consequently, RPW went to Vanderbilt University where he became a part of a writers' group called The Fugitives and began a distinguished career in poetry and novels that resulted in three Pulitzer Prizes. To date, Warren is the only person to win three Pulitzers. He is best known for All the King's Men, a novel reputed to be based on the life of Governor Huey Long of Louisiana.
Alex Haley, who lived for part of his childhood in his grandparents' home in Henning, Tennessee, is author of Roots, Queen, A Different King of Christmas, and several other novels. When Roots was televised, it was the most-watched program up to that time in history.
Having left college before earning a degree, he joined the Coast Guard where his writing career began when he wrote letters to sweethearts for other men on his ships. Tennessee now owns the Alex Haley Museum and Interpretive Center in Henning where Haley is buried in the front yard of his grandparents' former home.
Peter Taylor and his wife, poet Eleanor Ross Taylor, owned more than 30 houses over the period of their long marriage. Peter Taylor is best known for his short stories based on many events in the lives of members of his family. His grandfather was Robert Love Taylor, three times Governor of Tennessee and a member of Congress representing his home state.
Robert Love Taylor and his brother, Alf Taylor, competed for the governorship in a famous campaign known as the War of the Roses. Peter Taylor did not believe he could write a novel but when he finally did, he won the Pulitzer for A Summons to Memphis. Eleanor was engaged to another man when she met Peter at the home of Alan Tate and Caroline Gordon at Monteagle.
Peter went to Nashville to see Eleanor where she was attending Vanderbilt University and soon convinced her to marry him instead. Eleanor was awarded many prizes for her poetry although she focused her life on rearing their son and daughter and preferred a quiet life at home.
Believed by many to be one of the greatest writers of current times, Cormac McCarthy, now writer-in-residence at Santa Fe Institute in New Mexico, lived in Knoxville during most of his childhood and during his early adulthood. His father was an attorney who represented the Tennessee Valley Authority.
Many of McCarthy's books have been made into movies—All the Pretty Horses, No Country for Old Men, and The Road, to name a few. McCarthy does not like to talk to the press nor to other writers, preferring to spend his time with scientists at the Institute. Out of his normal comfort zone during his early years in Knoxville, he did talk with William Gay, another writer in Tennessee Literary Luminaries. William Gay called McCarthy on the phone one day and they struck up a friendship described in Culverhouse's book.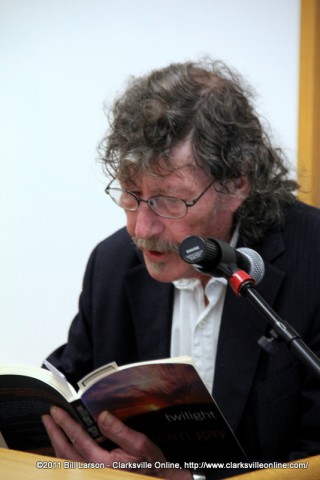 Hohenwald, Tennessee native, William Gay was a self-educated writer who never published until he was 57 years old although he wrote continuously from the time he was a boy. Supporting his family of four children by working in construction, William Gay wrote novels that were made into movies and one of which was named by Stephen King as the top book of 2007.
William's published novels include The Long Home, Twilight, Provinces of Night, and several collections of short stories including I Hate to See the Evening Sun Go Down and Wittgenstein's Lolita/The Iceman: Short Stories from William Gay. One of his short stories, "The Paperhanger," has been published numerous times. His friend, Michael White, is nearing the publication of a new book of William's work.
Bud Willis, a middle child in a family of nine reared by their mother after abandonment by their father, wrote Marble Mountain, a coming of age novel, based on his diary during service as a Huey helicopter pilot in Viet Nam. Now retired from a notable career as a stock broker, Willis devotes profits from the book to the Wounded Warrior Project.
Also author of Bluestocking based on his childhood in Tullahoma, Tennessee, Willis has created a novel about war that every young person should read in order to understand the reality of life as a person in combat.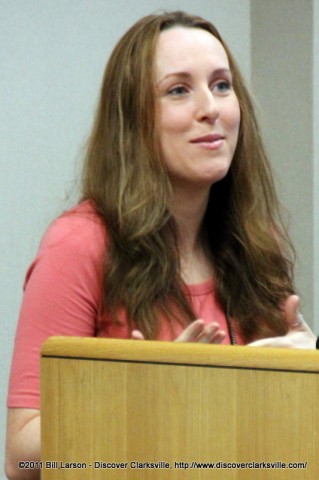 Amy Greene, author of Bloodroot, describes life in Appalachia as her characters face poverty, folk medicine, and the beliefs that are prevalent in the special communities in which they live. Greene is distinguished as being one of the few authors whose book was purchased immediately by the first publisher who read it.
Her writing has evolved as a true voice of the people about whom she portrays and the novel is not to be missed. Her next book is in its final stages and will be published soon.
Alice Randall, now writer-in-residence for Vanderbilt University, published her first novel, The Wind Done Gone, a parody following lives of unnamed characters from Gone With the Wind. Litigation over the book led to the publisher's donation to the Morehouse College, long supported by the Mitchell family.
Randall's subsequent books, Rebel Yell, Pushkin and the Queen of Spades, and Ada's Rules have been much awarded as was The Wind Done Gone. Harvard educated, Randall is the first African-American woman to write a number one country song, and she also wrote a video of the year, worked on multiple Johnny Cash videos, and produced a pilot for a prime time drama on CBS (featuring ex-wives of country stars).
Dr. A. Scott Pearson specializes in General Surgical Oncology involving the endocrine and gastrointestinal systems as well as the breast. He is currently the chair of the Multidisciplinary Solid Tumor Board of The Vanderbilt-Ingram Cancer Center in Nashville. He is author of two medical mysteries based on Eli Branch, the protagonist Memphis doctor who also solves crimes.
Rupture and Public Anatomy are the first two of the series with a third that takes place in Europe to be published soon. Dr. Pearson is a champion of narrative medicine and teaches his students that the patient's story is tantamount to proper diagnosis. Public Anatomy won the 2012 Benjamin Franklin Award in the Mystery/Suspense category presented by the Independent Book Publishers Association.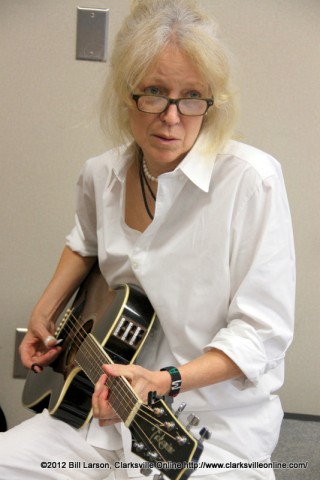 Marshall Chapman, long-time resident of Nashville although born in South Carolina, is a novelist, songwriter and rock star who is just coming into her own as a movie personality. Her books are Goodbye, Little Rock and Roller, a description of her career in music, and They Came to Nashville, stories of the lives of country music stars and their struggles to make it big.
Marshall's web site, www.tallgirl.com, follows her amazing career as she performs throughout the United States. Her musical Good Ol' Girls is adapted from the fiction of Lee Smith and Jill McCorkle and features songs by Matraca Berg and Marshall. At 65, she has published a highly acclaimed CD, Blaze of Glory, her thirteenth album, and has been featured for her first three performances during the past six months at the Grand Ole Opry.
Culverhouse's Tennessee Literary Luminaries, is now being considered for inclusion in the high school curriculum of several counties in Tennessee . The extensively researched book is both readable and informative. It is available at major bookstores and on line in both paperback and in electronic versions.