Johnson City, TN – Junior Maikea Davis broke the school record in the 200m dash and a host of Austin Peay State University women's track and field team members put up strong numbers on the first day of the 36th Annual Niswonger Invitational, hosted by East Tennessee State at Mountain States Health Alliance Athletics Center.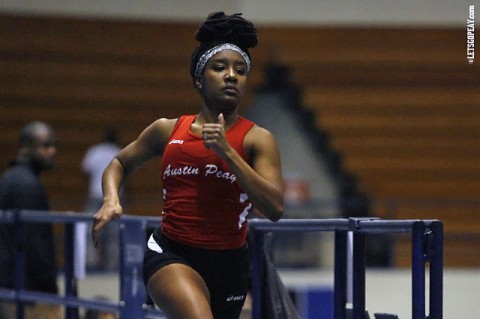 In a short time at Austin Peay, Davis has already left her mark on Austin Peay's program. Since transferring from Western Kentucky, Davis has now broken the 200m record twice in three meets, lowering the mark to 24.82 seconds and qualifying third for Saturday's final.
Freshman KayInn Pitts qualified second in the triple jump thanks to a personal-best 11.84m (38' 10.25") leap. It's the best mark by a Lady Gov in each of the last two indoor seasons. Freshmen Chancis Jones (seventh, 11.64m) and Amia Butler (eighth, 11.44m) also advanced to the final.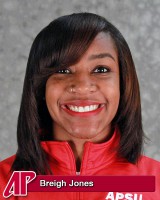 In her first action during the 2013-14 indoor season, Breigh Jones showed she hasn't lost a step. In her first meet representing Austin Peay since the 2013 US Junior Nationals, the sophomore qualified third in the 400m dash with a 56.46 mark.
"Breigh showed up and did very well in her first meet," said head coach Doug Molnar. "We were solid in every event and better than we were last week."
A pair of Lady Govs freshmen advanced to Saturday's 60m hurdle finals. Butler (9.10) and Myiah Johnson (9.23) qualified fifth and sixth, respectively, out of 40 runners in the event.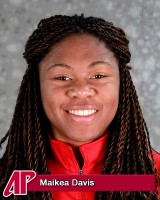 Sophomore Kymmalett Ross had hard luck on Friday, barely missing out on qualifying for the 60m dash and 200m dash finals. Ross was ninth in the 200m with a 25.41 mark and was sixth-hundredths of a second away from qualifying in the 60m with a personal-best 7.72 mark.
"Even though we didn't get anyone qualified for the final in the 60, I was really impressed with how well we ran," Molnar said. "I don't think we've ever had that many times under eight seconds in the event."
Action resumes Saturday for the final day of the Niswonger Invitational.