Clarksville, TN – Next to opening day, the first day of practice maybe the most exciting for any coach, but Austin Peay State University softball second-year head coach Stephanie Paris has a lot to get done in a very short time with the regular season opening for the Lady Govs February 7th at the University of South Alabama Mardi-Gras Invitational.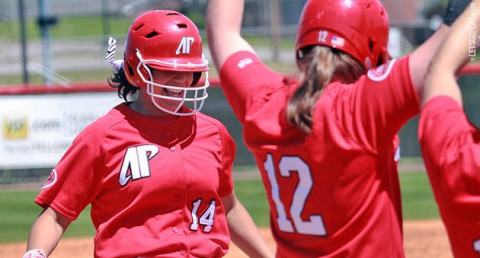 "We have about three weeks to get ready and we're talked about needing to get every little thing done that we can, even though the weather and field conditions may not be ideal," Paris said. "The girls are excited about being back and getting going, so we're going to do as much as we can, even though we may be limited on what we can do some days."
Austin Peay returns 10 letterwinners from last year's squad that finished 18-26 and 9-17 in the Ohio Valley Conference to go with 12 newcomers – which include four junior-college transfers.
"We're going to have some of our new players, such as out transfers and a couple of our freshmen, that are going to be everyday players for us," Paris said. "We were in a great place when we left for Christmas break and with the experience we have coming back we are able to jump back into our regular practices.
"We're so much farther ahead of where we were last year and we have so much more depth at each position than we've had. It's exciting to think able the possibilities for this group."
Headlining the returnees are two-time OVC First-Team member Lauren de Castro and Second-Team All-OVC selection Kayla Davidson.
Both missed workouts and games in the fall, but return healthy and ready to pick up where they left off in 2013.
"Lauren is feeling great after her surgery and rehab," Paris said. "She's just about where she was before the surgery and that's all we could ask for right now.
"We hope the next three weeks as we progress into the season she will continue to get better and be that force for us in the circle and at the plate."
The list of other returnees include seniors Kristin Whitmire – who returns after missing all but five games over the past two seasons with knee injuries – Amanda De Vries and Taylor Mills.
Laurel Burroughs is the lone returning junior, with Courtney Brower, Marissa Lake, Mel Pavel and Niya Sparks returning sophomores.
Juniors Christian Beam, Maecy Charleston and Ashley Eisenbraun, along with Vinchenza DiBenedetto, are junior-college transfers that headline the list of newcomers to go along with eight freshmen – Rikki Arkansas, Brianna Bartuccio, Allie Blackwood, Christiana Gable, Chandler Groves, Sidney Hoper, Laura Judy and Fatima Larios.
"We have a group that is about half-and-half returnees and newcomers," Paris said. "That is something that we needed. It's something that all teams need, because you never know what is going to happen as far as injuries, or maybe just shake-up the lineup one weekend.
"We have the people that we can go to and I think the hardest problem right now is trying to find out where everyone is going to be in the lineup, but it's not a bad problem to have.
"We going to try to get our best nine or 10 players in there (the lineup) every day and that's for us to try to narrow down over the next three weeks before we leave for South Alabama."