Clarksville, TN – Most coaches begin their road to the sideline, bench or dugout somewhere between high school and college — or even latter in some cases – but for Austin Peay softball assistant coach Denny Boguskie his trek into coaching began almost at birth.
Boguskie is currently in his second season on the staff of Lady Govs head coach Stephanie Paris and grew up around baseball fields in Nashville, TN, as the son of longtime Nashville Vols standout Harold "Buster" Boguskie.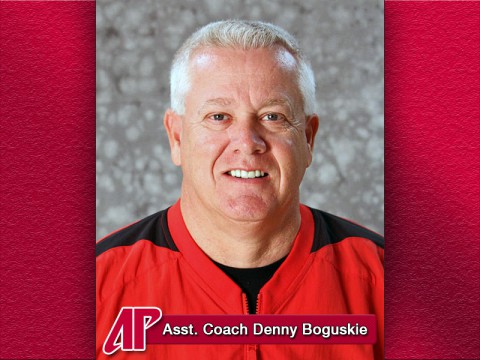 "My dad played with the old Nashville Vols and then sold sporting goods, so sports are something that I've been around all of my life," Boguskie said. "He started the baseball program at then Belmont College and also coached teams, so it's something that I've always been around.
"I was fortunate with my dad with the people he knew, like Jim Turner – who was a pitching coach for the New York Yankees – and countless other guys and scouts that would come through town and would give dad a call and they would come to the house and discussed baseball; and you can learn a lot about the game from just listening to a lot of those guys."
Boguskie went to high school at Stratford, where he played baseball and wrestled for the Spartans before heading to Middle Tennessee State University, graduating in 1978.
During those years he also came across several coaches that helped shape his outlook on sports.
"I was around a lot of great high school coaches and the impact that they had on my life is probably one of the reasons I got into coaching.
"At Middle (Tennessee), I got to know people like Joe "Black" Hayes, that played at Tennessee in the (19)20's and 30's that was one of my teachers and Jack Deer that I got to meet and be around."
After graduating for MTSU, Boguskie became a federal probation officer for 27 years, and although he enjoyed working in the federal court system, he found his way back to his roots in athletics about 10 years ago joining the softball coaching staff at Rossvew High School for head coach Phillip Burkhart.
"I was a non-faculty coach for eight years with coach Burkhart and had some great kids and parents," Boguskie said. "We were fortunate to win a lot of games over those years."
During his time at Rossview, the Lady Hawks won 224 games, six district championships and was a part of the first high school softball team to earn a berth into the TSSAA state tournament in 2005.
"I didn't know Phil (Burkhart) and just called him one day and asked him if he needed some help and he said yes and that's where I got started," he said. "The next year there was an opening for a full-time assistant and it just went from there."
Fate would play a hand in his coming to Austin Peay, as about the time he retired from being a federal probation officer the university hired Paris as its new head softball coach and through a mutual friend in the Nashville area was told to give her a call about a possible spot on her staff.
Boguskie came over and talked to Paris and shortly after he was a part of her new staff, giving him another opportunity to give back to young athletes like he saw his father and other coaches and players he grew up around.
"Ninety-nine percent of the time you get into coaching it's about the kids and that's why I got into coaching," Boguskie said. "They're just 18- to 22-year old kids that haven't experienced some of the things that I was fortunate to experience and learn about the game.
"I'm just trying to teach and give back to them what I got out of athletics from the time I was little traveling around with my dad."