APSU Sports Information

Morehead, KY – Angelo Warner hit a high-arching one floater inside the free-throw line with 0.8  seconds left in double overtime to lift Morehead State to a 90-88 win, Wednesday night, in Ohio Valley Conference action played at Ellis T. Johnson Arena.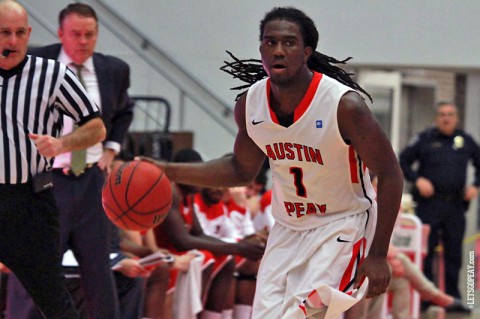 In a season tormented with several close losses, Wednesday's may have been the most gut-wrenching for the Governors, who slipped to 11-16 overall and 5-8 in the OVC.
The Govs owned a three-point lead and the ball with less than a minute left in regulation and still had an opportunity to win in the closing seconds but missed a fall-away three pointer. Then at first overtime's end they had the ball and a chance to win but were forced to settle for an off-balance baseline shot.
Thanks to Warner and his 28 points, Morehead State was able to win for a fifth straight time to improve to 19-9 and 10-3 in the OVC East. The Eagles have not lost to an OVC West team this season.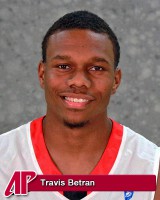 It was a game that saw the Govs, despite foul troubles with their three leading scorers—Travis Betran, Chris Horton and Will Triggs—control the first half, leading all but two minutes, as head coach Dave Loos mixed and matched his frontline reserves Preston Herring, Serigne Mboup and Chris Freeman while also switching to a 2-3 zone at times to change the Morehead State offensive rhythm.
It was a game with starting point guard Damarius Smith still out (ankle sprain) and his backup Zavion Williams battling knee troubles, saw the Govs turn to junior Fred Garmon, who is battling his own leg issues.
All the Kennett, MO, native did was bring grit to both ends of the floor, including drawing two important charging fouls, playing a career-high 42 minutes and scoring 13 points while tying for the team rebound lead (7).
The game was tied 10 times with 11 lead changes and any time Morehead State seemed to gain momentum, the Govs found an answer. APSU led by as much as seven second-half point. But the Eagles have not vaulted to the OVC top without reason.
They went on a 10-2 to take a 54-53 lead only to watch the Governors answer with a 10-4 spurt of their own, with Betran and Williams connecting on back-to-back three pointers during the run, to give APSU a 63-57 lead with 6:46 remaining.
Morehead State clawed back and tied it when point guard Kareem Story, who had made just nine previous three pointers (45 attempts), nailed one from the right corner with 4:22 left.
From there is became a back-and-forth contest. Betran gave APSU a one-point advantage on a layup with 2:46 left and then Ed Dyson nailed a pair of free throws with 1:15 left to make it a three-point game.
Warner then missed a Morehead State three with 1:04 left and Dyson grabbed the long rebound. The junior wing excitedly moved the ball upcourt and missed a short jumper, opening the door for Morehead State.
Senior Drew Kelly, the grandson of former Govs coach Lake Kelly, drove to the basket, made the shot and was fouled with 27.8 seconds left by Chris Horton—his fifth personal. Kelly sank the free throw to tie the game. They were Kelly's first points of the night.
On the ensuing possession, Morehead's defense would not allow the Governors to penetrate and Betran settled for a three-point attempt that bounced off the rim at the buzzer.
In the first overtime, a Betran traditional three-point play gave APSU a 76-73 lead with 2:51 left. Morehead State responded with a pair of free throws before Freeman made one of two with 21 seconds left. Warner then drove to the hoop and was fouled, giving him a chance to tie with 8.8 second left. He sank both free throws to knot the score at 77.
Morehead State again would not allow the Govs a good look in the offensive end as Garmon fired up a fall-away baseline three that hit the backboard's side at the buzzer.
In the second overtime, the Govs fell behind immediately by five points. But Betran again produced a traditional three-point play—he finished with 24 points—before center Chad Posthumus, who finished with 17 points and 18 rebounds (he was second in the NCAA in rebounds entering the game) dunked home a bucket to make it a four-point game.
Again it was Betran nailing a left baseline three pointer to make it a one-point game briefly before Kelly's second field goal extended the lead to three, 86-83, with 2:54 left. However, Freeman sank to free throws with 2:12 left to make it a one-point game once again.
Garmon then drew a charge from Warner to give the ball back to the Govs with 1:55 left. Triggs gave APSU the lead, 88-87, with a layup but Warner answered with a mid-range jumper to put the Eagles back up, 88-87 with 54 seconds left.
Triggs then was fouled with 34.8 seconds left. He missed the first but made the second to tie the game setting up the final play that saw the Govs double team Warner to prevent the lane drive. But he was able to float the ball over a pair of taller Govs' outstretched hands for the game winner.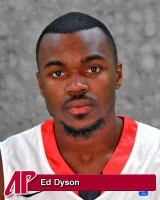 In addition to Betran's 24 and Garmon's 13, Dyson also had 13 before fouling out in the first overtime. Chris Horton also had 10 points and five blocked shots.
The Governors finished the night shooting 29 of 56 (52 percent) from the floor, After making just 5-of-10 first-half free throws the Govs finished a more than respectable 25-of-35 (71 percent). But 21 turnovers proved costly.
After APSU hung with Morehead rebounding-wise in the first half at 18 apiece, the Eagles held a 21-13 advantage after intermission, including eight offensive grabs.