APSU Sports Information

Evansville, IN – Austin Peay State University women's tennis team made it two in a row after upending Southern Indiana, 9-0, Friday, in non-conference action.
No Lady Gov was pushed to three sets and two didn't drop a game during the course of play against the Screaming Eagles.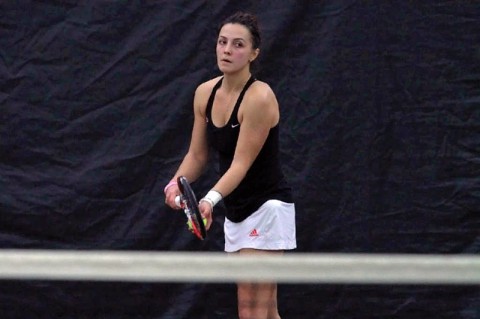 Andra Cornea swept through her No. 1 match against Elizabeth Wilm, 6-0, 6-0, while freshman Hannah Tatlock did the same against Kymberly Brannon at No. 5.
Junior No. 2 Ornella Di Salvo swept through her first set against Morgan Coquerille and wound up winning 6-0, 6-3. Freshman Isabela Jovanovic was similarly successful in the No. 6 match, defeating Alyssa Hoover, 6-0, 6-2.
Juniors Vanessa Tavares and Jovana Karac also picked up wins Saturday. Tavares downed Brenna Wu 6-1, 6-2 at No. 3 while Karac knocked off Elizabeth Skinner, 6-2, 6-2 in the No. 4 match.
In doubles, which counted as a point per match as opposed to the usual best two-of-three taking the point format, Austin Peay was likewise infallible. Cornea and Di Salvo defeated Wu and Wilm, 8-3, the same score by which Tatlock and Karac defeated Elizabeth Skinner and Miranda Camp. Tavares and Jovanovic defeated Coquerille and Shannon Joyce, 8-4, to round out a wildly successful outing for the Lady Govs.
Austin Peay returns to action against another squad from the Crescent City when it hosts Evansville, Friday, February 28th, at the Austin Peay Tennis Center.