Austin Peay Sports Information

Naples, FL – Austin Peay State University men's golf team got off to a great start in the Talis Park Challenge but could not maintain that type performance later in the day, being played at the Talis Park Golf Club.
Still the Govs head into Monday's final round in fourth place against an outstanding tourney field.
After shooting a 4-over 292 in the first round, the Governors slipped to a 305 afternoon round, Sunday, in near-30-miles-per-hour winds. As a result, the Govs went from third place to fourth place in the event being played on the par-72, 7,025-yard Talis Park layout.
Vanderbilt is the tourney leader at 4-under 572, followed by Wichita State at 592. Notre Dame, shooting a second-round 295 after a first-round 299, moved into third place at 594 followed by APSU at 597.
Florida Gulf Coast is one stroke back at 598 with Toledo in sixth at 606 in the 14th-team field.
"The winds were blowing nearly 30 miles per hour and they had the greens probably the fastest of the top three or four tournaments I have seen in my 10 years here," APSU coach Kirk Kayden said. "The winds and the pace of the greens had the scores way up, especially the second round, for everybody, except for Vandy.
"We are in contention to have a nice tournament. We have the opportunity to beat some really nice teams."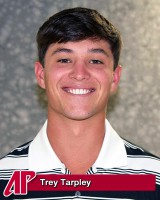 Senior Marco Iten is tied for eighth overall at 2-over 146 after shooting back-to-back 73s. Senior Trey Tarpley is tied for 10th after shooting an even-par 72 followed by a 3-over 75. APSU's third senior Anthony Bradley shot a 72-78 (150) and is tied for 19th.
"Marco is really playing solid so far this spring," Kayden said. "I kind of judge how good you play against the tournament scoring average and he is well below that.
"Trey also had a real nice day for us as well. It is a matter of getting these guys to play well on the same day."
APSU's two sophomores, Austin Kramer and Chris Baker, both came in at 3-over 75s in the first round but struggled during the afternoon. Kramer was at 79 while Baker was at 80.
"Every tournament is a learning experience for those two," Kayden said. "Austin really struggled during the early holes of the second round but pulled it back together on the back nine—to salvage something. Chris tripled a 130-yard par 3 (No. 13), a little island green, and that set him back some.
"It's a learning process as for them as they play in more tournaments and all the difficult and different-type conditions."
The Governors have been able to fire strong early rounds during the season's early portion but are still seeking that one defining final round, one that could boost the team's profile in the season's final half.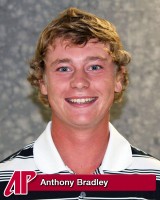 "We got off to a real nice start in the tournament, playing really well, got it 2- over 3-under," Kayden said. "But we gave some shots back on the final three holes. It cost us a couple of places.
"In the second round, we got off to a rough start, but we were able to hold it together and hung on there to keep us in fourth place.
"Our guys are excited to see what we can do tomorrow. We are expecting winds again tomorrow but I think we will be better prepared. This is a real quality field it would be nice to that strong closing round—if we can do that we can really build some confidence."
Box Score
Talis Park Challenge
March 16th-17th, 2014
Round: 2
Par-Yardage: 72-7025
| | | | | |
| --- | --- | --- | --- | --- |
| Finish | School – Players | Round 1 | Round 2 | Totals |
| 4 | Austin Peay State University | 292 | 305 | 597 |
| T 8 | Marco Iten | 73 | 73 | 146 |
| T 10 | Trey Tarpley | 72 | 75 | 147 |
| T 19 | Anthony Bradley | 72 | 78 | 150 |
| T 35 | Austin Kramer | 75 | 79 | 154 |
| T 39 | Chris Baker | 75 | 80 | 155 |
| | | | | |