Austin Peay Sports Information

Bowling Green, KY – It's tough deciding what was a more impressive achievement by Austin Peay State University track and field at Saturday's Hilltopper Relays.
Lady Gov athletes brought home five victories from the Western Kentucky-hosted event. Austin Peay also swept the podium in the 400m dash and saw two more school records fall at Charles M. Rueter Track and Field Complex.
"No complaints today," said head coach Doug Molnar. "We're getting to that point in the season where we're just starting to peak. Each week, it seems like everyone, across the board, is just getting a little better."
The day began somewhat auspiciously for the Lady Govs. Transfer trouble hurt the 4x100m relay team, with Maikea Davis and Breigh Jones nearly coming to a stand-still before making the exchange. Even with those troubles, the Lady Govs still managed a runner-up finish thanks to a 46.06 mark by Jones, Davis, junior Erika Adams and sophomore Kymmalett Ross.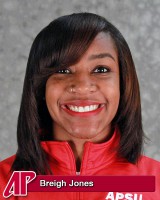 Jones and Davis would rectify their mistakes, with Jones leading a sweep of the podium in the 400m run thanks to a 55.63 mark. She was followed by freshmen Terri Morris (56.42) and Tamira Wilson (57.35).
"Maybe a bit of a favorable wind for us today," Molnar said. "Regardless, the 400 groups is really putting it together. In a quality field like this, a sweep is tough to do."
Davis would continue her assault on the 200m record. She lowered her own mark by nearly two-tenths of a second, placing runner-up in the event thanks to a 24.04 mark in her return to Western Kentucky – Davis was a member of the Hilltopper track squad last season.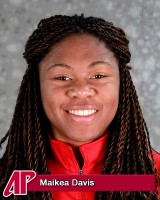 The other record to fall on the day was 100m mark that had stood for 12 years. Adams was runner-up in the 100m event in Bowling Green with an 11.81 run to break Roni Hopkins' 2002 mark by one-hundredth of a second. Adams also finished third behind Davis in the 200m dash with a personal-best 24.23 mark.
"I'm sure that having Maikea Davis around has pushed Erika to be even better," Molnar said. "It's unreal the amount she's grown during her career and that's a credit to her and Coach (Valerie) Brown."
Another former Western Kentucky athlete who shined in her return to Hilltopper country was Kimberly Dominguez. The senior won the 5000m run with an 18:35.30 mark, and she was not the only distance runner to post a strong showing on Saturday. Kendra Kirksey won the 3000m steeplechase at the Hilltopper Relays with an 11:30.17 mark after finishing runner-up in the event a year ago.
Senior
Xiamar Hudson
won the 1500m run with a 4:38.45 and followed that up later in the afternoon with a third-place, 2:16.33 mark in the 800m event.
Austin Peay's final win came in Saturday's final event, when the 4x400m relay squad of Ross, Davis, Jones and Morris blew past the field with a blistering 3:47.29 mark.
A host of student-athletes who have been at the top of the lists in recent weeks continued their upward trajectory with personal-bests on Saturday. Senior Molly Basch earned a tie for fifth with her 3.48m pole vault mark, while freshman Myiah Johnson's 14.17 100m hurdles run was good for third.
A pair of freshman jumpers continued their solid season's, with Kaylnn Pitts placing third after upping her best to 12.53m in the triple jump to extend her conference lead in that event. Amia Butler's 5.96m long jump mark places her second in that event in the Ohio Valley Conference, pending marks from other OVC athletes.
The Lady Govs continue their march toward the OVC Outdoor Championships next weekend when Austin Peay travels to Edwardsville, IL for the Gateway Classic.