APSU Sports Information

Martin, TN – Austin Peay State University women's tennis team saw its hopes for a berth in next week's Ohio Valley Conference Tournament come to an end, Saturday. The Lady Govs 5-2 loss at UT Martin ensures that they will not be part of the field at Heflin Tennis Center.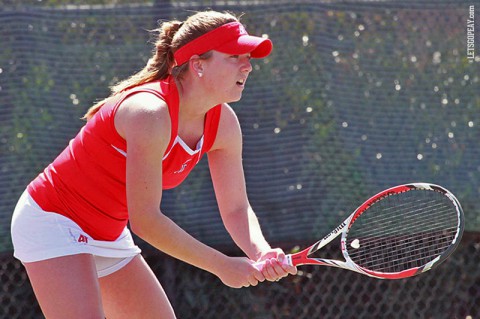 The loss drops the Lady Govs to 5-14 overall, with a 2-7 mark in the conference. UT Martin improves its chances of postseason play, moving to 5-4 in the OVC (8-9 overall).
The Lady Govs failed to take the doubles point for the seventh match in a row, but did have some improvement at No. 3, where junior Jovana Karac and freshman Hannah Tatlock defeated Katie McCall and Jessica Silva, 8-4, to snap a five-match losing streak for the pair.
Tatlock was victorious yet again at No. 5 singles, defeating Silva 6-2, 6-1 for her fourth win in the last five matches. She also assumed the team lead in spring singles wins with her ninth during the dual campaign.
Junior Vanessa Tavares picked up her spring's eighth win with a 7-6, 6-7, 10-4 super-tiebreaker against Sarah Candeloro at No. 3. The win improves her record to 4-2 in three-set matches this season.
Freshman Isabela Jovanovic came close to evening the singles side of the draw for Austin Peay; the Brazilian dropped a hard-fought 6-3, 2-6, 6-3 match to McCall in the No. 6 slot.
Austin Peay closes out the 2014 campaign against Southeast Missouri, 2:00pm, Sunday, in Cape Girardeau, MO.