Austin Peay Sports Information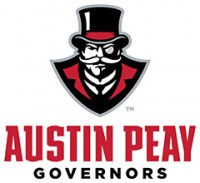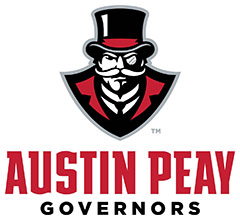 Clarksville, TN – Two Austin Peay State University men's golfers have been honored with the athletics department's highest honors.
Meanwhile, on the women's side a multitalented softball player and a Lady Govs soccer player who brought nationwide attention to her country, herself and APSU earned similar honors Monday night at the annual APSU's Athletics Banquet, held in the Dunn Center.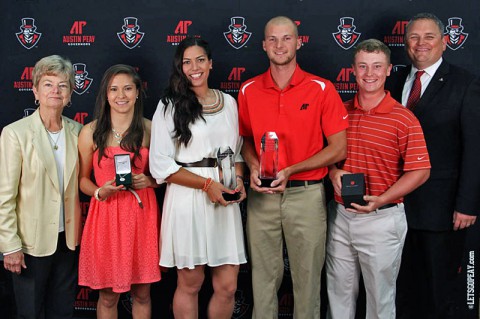 Senior Marco Iten, who captured Ohio Valley Conference Golfer of the Year honors, Sunday, and will represent APSU at the NCAA Regional Championship after earning league medalist honors, was chosen APSU's Most Outstanding Male Athlete.
Teammate Anthony Bradley, who was a four-time All-OVC selection and earned OVC all-tourney honors three times, has been selected the 2013-14 Male Legends Award recipient as the most valuable senior male athlete.
Lauren de Castro, who has starred both on the mound and with the bat, has been named the Most Outstanding Female Athlete.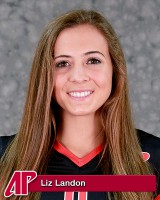 And Tatiana Ariza, who rewrote the APSU record book while bringing national acclaim to her native Colombia by playing in the 2012 London Olympics and in the World Cup, has been named APSU's Female Legends Award recipient as the most valuable senior female athlete.
In addition to the Outstanding Athlete and Legends Awards, volleyball's Liz Landon, who has a 4.0 GPA as a health and human performance major, has been named the 2014-15 Perkins Freeman Governors Club Academic Scholarship recipient for owning the highest GPAs of rising seniors while track and field's Molly Basch, who has a 4.0 GPA in psychology, and football's Ben Stansfield, who a 4.0 GPA in psychology, were named the Perkins Freeman Governors Club Academic Achievement Award recipients for possessing the highest GPA of graduating senior student-athlete.
In addition, Basch and Landon shared the Women's Scholar-Athlete Award while football player Ben Stansfield, who graduated with a 3.97 GPA in psychology (minor in business) in December, was named the Male Scholar-Athlete.
Remarkably Iten played in every Govs golf tournament since he arrived on campus four seasons ago. He was a three-time All-Ohio Valley Conference selection and member of the Governors 2013 OVC title team that finished seventh at the NCAA Tempe Regional—he finished with a 3-under 207 and tied for 13th.
He carried that momentum into 2013-14. As good as he was in his previous three seasons, Iten enjoyed a spectacular senior campaign. He played in 12 tournaments with 10 Top 20 finishes, including five Top 5. In fact, he was the Governors top individual finisher in six straight tournaments, beginning with the final fall event (F&M Bank APSU Intercollegiate).
In the spring he rolled off an incredible stretch that saw him finish first (Talis Park Challenge), second (Memphis Intercollegiate) and first (Waverly Intercollegiate) against some of the strongest tournaments field APSU has played in history—a dominating run that was reminiscent of past Kayden APSU standouts Grant Leaver, Erik Barnes and Dustin Korte.
He culminated his superb season by claiming medalist honors at this weekend's OVC championship, shooting 68-68=136 that resulted in him being OVC Championship Medalist and voted OVC Golfer of the Year—he became the eighth APSU golfer in the program's storied history to earn such distinction.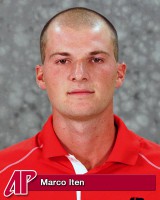 His weekend performance now will see him advance to NCAA Regional competition, becoming the fourth Governor in history to qualify for NCAA play as an individual. The Niederlatt, Switzerland native owns a 72.5 scoring average for 34 rounds this season.
For the past four years, Bradley and Iten literally have been the face of APSU golf since arriving as freshmen. Since then, Bradley has been the model of consistency. He was chosen to the OVC All-Newcomer team as a freshman as well as second-team All-OVC. He earned All-OVC honors again a year later while being the 2012 OVC Tournament medalist—winning APSU's first individual league title since 2003—earning a trip to the NCAA Regional in Bowling Green, KY. In 2013, he again earned All-OVC honors and OVC all-tourney honors as the Governors ran away with the league title and competed in the NCAA Tempe Regional.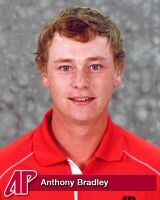 This season Bradley joined former APSU great Erik Barnes (2007-10) as the only four-time All-OVC selections. Bradley posted a 73.9 scoring average and earned OVC all-tourney for a third straight time after finishing fifth (71-71=142) in last weekend's OVC tournament.
The Devonshire, England native had a four Top 10 finishes in the fall, including fifth at the Bearcat Invitational. Overall, Bradley claimed 19 career top 10 finishes, including three medalist honors. He played in 46 career tournaments and posted a scoring average below 74.0 each season, including a career-best 72.74 in 2012-13.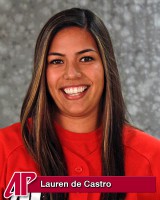 de Castro literally has been APSU's do-it all player since joining the team in 2010-11. The Torrance, CA, native leads Austin Peay in nearly every offensive and pitching category, earning OVC Player of the Week for March 24th.
Three times she's driven in the game-winning run this season and her five shutouts are the most by a Lady Gov since 2007.
This Lady Govs top producer at the plate is hitting a robust .361—her average is more than 100 points higher than the team average—to go along with six home runs and 27 RBI at the plate to put her well on the way to a third All-OVC honor.
She leads Austin Peay softball in the circle as well with 12 wins—more than the remainder of the pitching staff's victory total combined—and ranks 48th nationally with five shutouts. In February, she was one of five finalists for the Ed Temple Amateur Female Athlete Award from the Nashville Sports Council.
de Castro will leave APSU highly ranked in most statistical categories both offensively and in the circle. In fact, she will leave Austin Peay with the career doubles record (38), set earlier this season. She also is second all-time in career home runs (26) and RBI (109).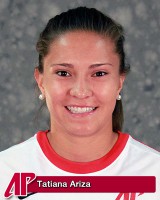 Tatiana Ariza capped an amazing Lady Govs soccer career in 2013 by leading the team in scoring for a fourth consecutive season, scoring 15 goals and tallying 34 points—both OVC leading totals—to lead Austin Peay into the OVC Tournament semifinal. She earned her fourth consecutive All-OVC first-team honor in the process. Tatiana Ariza ranked 23rd nationally in goals and 38th in total points. She finished her career as the second-leading scorer in OVC history (132 points).
This Lady Gov finished her career as Austin Peay's all-time leader in goals (54), assists (24) and points (132). Alongside her sister, Natalia, she represented Austin Peay on a national level for the Colombian National Soccer Team at the 2012 London Olympics, officially the Games of the XXX Olympiad—becoming the first APSU athletes in history to participate in the Olympics.
The Bogota, Colombia native was Austin Peay's first four-time All-OVC representative and will continue her career with the Houston Dynamos in the Women's Premier Soccer League. Ariza was named to the 2012 National Soccer Coaches Association of America (NSCAA) second-team All-South—her second such honor—and was the OVC Offensive Player of the Year that season.
This is the sixth year the Legends Award has been bestowed, continuing APSU's 67-year tradition of honoring the most valuable male and female senior athletes for their respective career accomplishments. The Legends Award, sponsored by Legends Bank, assumed the place of the Joy Award, which was originated in 1947 by the late Wilson Goodrich, then owner of Joy's Jewelers.
The Most Outstanding Athlete of the Year Awards were established in 1993-94, recognizing the top individual single-season performances by Governors and Lady Govs athletes, respectively.