World's Largest Rolling Grill Cooks 2,500 Brats Per Hour
Sheboygan, WI – America's number-one sausage brand, Johnsonville Sausage, is bringing big taste to Nashville, May 16th – 18th at the Goodguys 9th Nashville Nationals.
Event-goers will have the opportunity to enjoy Johnsonville Brats fresh off the Big Taste Grill, the world's largest touring grill. Proceeds from brat sales will go to Bikers Who Care, a motorcycle enthusiast non-profit dedicated to supporting children's charities.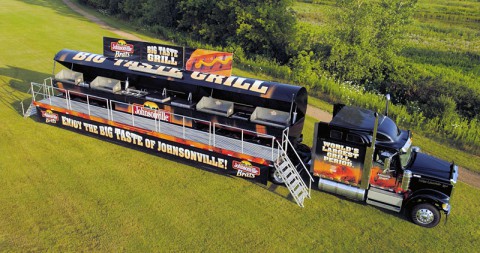 Event Details
What: Johnsonville Big Taste Grill at Goodguys 9th Nashville Nationals
When: May 16th – 18th, 2014
May 16th – 8:00am–5:00pm
May 17th – 8:00am-5:00pm
May 18th – 8:00am-3:00pm
Where:  LP Field at 1 Titans Way
The semi-truck-sized grill weighs in at 53,000 pounds and measures 65 feet long, 20 feet high and 6 feet in diameter. It has the ability to prepare 750 brats at a time – around 2,500 brats an hour.
The Johnsonville Big Taste Grill has a history of helping communities like Nashville. Since the tour launched in 1995 as part of Johnsonville Sausage's 50th anniversary celebration, the Big Taste Grill has helped raise more than $3.5 million for charitable groups and organizations nationwide. In 2013, the Johnsonville Big Taste Grill raised more than $130,000 for charity.
"For Johnsonville, The Big Taste Grill tour is an annual tradition that combines our love of grilling with our passion for local activism," said Ron Schroder, senior brand manager. "The tour not only brings Johnsonville sausage to grilling enthusiasts around the country, it also helps them support the charities that matter in their communities."
The Big Taste Grill travels throughout the country, grilling brats and helping raise money for local organizations.
In addition to countless local events like state fairs, community festivals and air shows, the grill has appeared at a number of major events over the years including several Super Bowls, the Daytona 500, the Kentucky Derby, a September 11th fundraiser at the Pentagon and more.
For more information about the Johnsonville Big Taste Grill, visit bigtastegrillcom.  For great recipes and cooking tips sure to spice up any at-home gathering or grilling occasion, visit www.johnsonville.com.
About Johnsonville Sausage, LLC
Wisconsin-based Johnsonville Sausage is the No. 1 national brand of brats, Italian sausage, smoked-cooked links and fresh breakfast sausage links. Johnsonville employs approximately 1,300 members. Each member takes ownership of product quality to ensure the excellence and "Big Flavor" of Johnsonville Sausage. Founded in 1945 by the late Ralph F. and Alice Stayer, the company remains privately owned today.
For additional Johnsonville company information, the latest recipes, contests and the Big Taste Grill tour schedule, visit www.johnsonville.com.