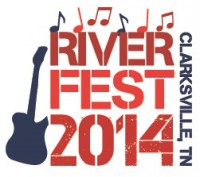 Clarksville, TN – Riverfest, the two-day music and arts festival scheduled for September 5th and 6th, 2014 at McGregor Park, is excited to announce a new addition to this year's attractions, the first annual 52-Hour Film Festival, presented by the Clarksville Department of Electricity.

The 52 Hour Film Festival will be held August 15th-17th, 2014. Filmmakers from all over Middle Tennessee are encouraged to compete for a chance to win big!

Prizes up for grabs, thanks to the Clarksville Department of Electricity, include GoPro Hero3's, Amazon Gift Cards, and Western Drive My Cloud 3TB Hard Drive! If prizes weren't enough, you'll have a chance to see your film on the big screen!

All films entered into the festival will air on the CDE Lightband Channel 6 following the festival! And the Top 10 films will be shown prior to the main shows throughout the Clarksville Movies in the Park 2015 season!

Rules are simple. Teams will be given 52 hours to script, shoot, and produce their own 4-7 minute film. All of the films submitted by 10:00pm on August 17th, 2014 will be shown at a public screening and award ceremony scheduled to take place Saturday, September 6th, 2014 at 8:00pm at Riverfest.

Interested in participating? Entry forms are available online at www.clarksvilleriverfest.com or at the Clarksville Parks and Recreation Department office located at 102 Public Square. Completed entry forms must be e-mailed to no later than August 15th. There is no fee to enter.

Stay tuned to www.clarksvilleriverfest.com for frequent updates and to check out genres that will be given.



Sections
Arts and Leisure
Topics
52 Hour Film Festival, CDE, CDE Lightband, Clarksville, Clarksville Department of Electricity, Clarksville Parks & Recreation Department, Clarksville Parks and Recreation, Clarksville TN, Gift Card, McGregor Park, Middle Tennessee, Movies in the Park, Public Square, Riverfest