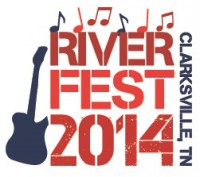 Clarksville, TN – The Nashville Zoo's "Wildlife on Wheels" was at Clarksville's Riverfest 2014 on Saturday, September 6th at the Adventure Zone. The show is a regular at Riverfest each year and a hit with kids and adults alike.
"We love coming to Riverfest. At the Nashville Zoo, we just love being able to come out to events like this to educate young children and get them passionate about the animals," stated BHD Keeper Anna Currie with the Nashville Zoo.
This year, the animals Currie brought to Riverfest were "Molla" the Kinkajou, "Archimedes" the Eagle Owl and "Elmo" the green wing Macaw.
The green wing Macaw is from the rainforest of Northern and Central South America. It generally mates for life and the female lays two or three eggs in it's nest.
Found in the grasslands of Europe and Asia, the Eagle Owl is a nocturnal hunter that preys mainly on small mammals, but sometimes reptiles and fish. The female can weight as much as 9.0lbs while the male can way up to 6.6lbs. Their wingspan can reach 79 inches.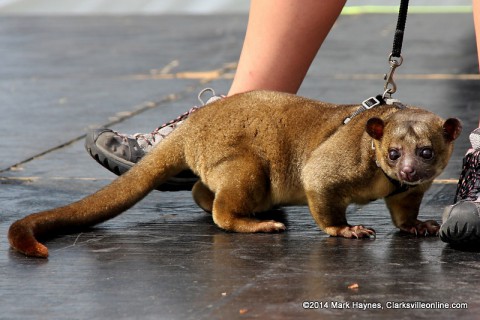 Living in the rainforest canopy, the Kinkajou can be found in Central and South America. Sometimes mistaken for a monkey, the Kinkajou is related to the raccoon. A nocturnal animal, it's diet mainly consists of soft fruits, as well as leaves, flowers and herbs.
"I just loved seeing and learning about the animals they brought out here today," stated Cindy Mixon of Springfield, TN. "I especially liked the Kinkajou."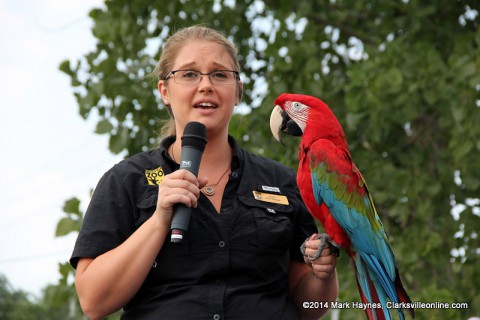 "Our hope is that by getting kids started early and getting them passionate about animals, maybe we have a chance to save a few species," said Currie. "The animals need so much help in the wild."
"Wildlife on Wheels" is a Community Outreach program of the Nashville Zoo. The Nashville Zoo is proud to offer an exciting series of educational outreach programs to Middle Tennessee.
The variety of programs align with Tennessee State Standards and Common Core while being packed with fun for all ages.
They have several programs that are available to travel to your site year round.
These entertaining and educational programs feature live animals and activities brought right to your facility.
Provide your group with an up-close experience with animals from around the world!
For more information on "Wildlife on Wheels", visit www.nashvillezoo.org
About the Nashville Zoo
Nashville Zoo is accredited by the prestigious Association of Zoos and Aquariums, assuring the highest standards of animal care and husbandry. Attracting more than 776,000 visitors annually, the Zoo is considered one of the top things to do in Nashville.
The Zoo is a non-profit organization located at 3777 Nolensville Pike and is open every day except Thanksgiving, Christmas and New Year's Day. The mission of Nashville Zoo is to inspire a culture of understanding and discovery of our natural world through conservation, innovation and leadership.
For more information about Nashville Zoo, call 615.833.1534 or visit www.nashvillezoo.org
Photo Gallery