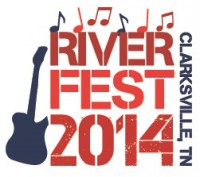 Clarksville, TN – Clarksville Riverfest patrons got a taste of slight of hand and illusion Saturday, September 6th by magician Russ Nowack. From the rings to the disappearing silk handkerchief, Nowack amazed and mesmerized the adults and kids alike with his feats of magic on the Riverfest River of Culture Stage.
With his people skills, he was able draw the audience into his act and had them participating as well.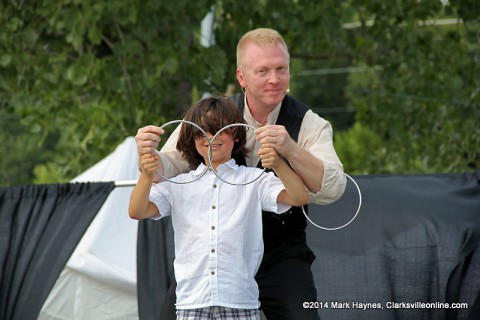 "The magic show was great. I thought it was really fun," said Karen Gundling from Ottawa Canada. "I loved Riverfest. It was really nice."
"Riverfest is an awesome event. I come to it every year. For the last couple of years they've actually had me perform," said Russ Nowack.
"The show was just fantastic. I really had a good time," said Katie Jordon. "My kids were excited to see the show and they were not disappointed."
"I have lived in Clarkville for about 15 years on and off with the military. I used to do this in my twenties for about 12 years. It was my full time job just doing magic," stated Nowack. "Then I had to get a real job and I joined the military. Now I'm back working for them."
"I love doing magic and I love Riverfest. They put on a great show. It's awesome that the city does so much for the people of Clarksville. I really really enjoyed it." said Nowack.
The crowd really got into the show. "They were a really great audience. I really enjoyed performing for everybody," commented Nowack. "I have to give it to them. They were really worn down due to the heat and things. It was a good crowd."
Russ Nowack is a regular at the Chick-Fil-A Kid's Night on Monday nights between 5:00pm-7:00pm at the Chick-fil-A on Madison street. You can catch him there making free balloons and close up magic for everyone.
"It's a great event for the community. Chi-Ail-A really gives back to the community a lot," said Nowack.
For more information on Magician Russ Nowack, visit his website at www.magicianruss.com
Photo Gallery