APSU Sports Information Office

Bowling Green, KY – Through nearly two full sets Austin Peay State University's volleyball team had the run of play, but could not hold off a homestanding Western Kentucky squad in a four-set loss (25-23, 21-25, 21-25, 18-25), in its final match of the Holiday Inn University Plaza Invitational at E.A. Diddle Arena.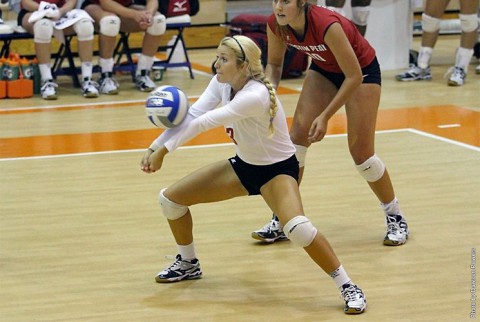 Austin Peay (3-8) rolled to an opening set victory, using an impressive 12-2 run to turn a 5-4 deficit into a 16-7 lead. Freshman
Christina White
had a pair of service aces in that run and senior
Jada Stotts
added a pair of kills.
Western Kentucky would get within a point at 24-23 but Stotts notched a kill to hand APSU a 25-23 victory.
The Lady Govs controlled most of the second set, breaking out to a 9-6 lead after a pair of Stotts kills. The Hilltoppers could not wrest control away until it pieced together three straight points to build a 23-20 lead. After an attack error gave APSU a point, the Lady Govs committed a pair of errors to hand the set to WKU, 25-21.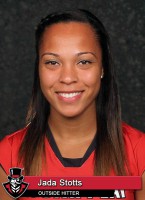 Western Kentucky (9-2), which upset nationally-ranked Purdue in Friday's tourney finale, asserted itself in the third set, winning 25-21 in wire-to-wire fashion.  The Hilltoppers scored 18 kills and committed just one attack error in the frame.
WKU opened with a 4-0 run and extended that lead to eight points before APSU attempted to charge back with a 5-0 run – highlighted by three Stotts kills – to cut the deficit to three points, 22-19, but could get no closer.
Austin Peay bounced back in the fourth set and forced five ties and four lead changes in the early going. Western Kentucky took control of the set with a 7-1 run to turn a 5-4 APSU lead into a 12-7 WKU advantage. Austin Peay would get no closer than that five-point deficit the rest of the way, Western Kentucky winning the match with a 25-18 victory.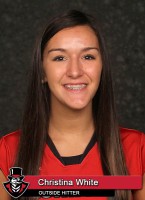 "We played really well again this morning," said Lady Govs head coach Taylor Mott. "We're still battling with our consistency and avoiding errors. But all in all I believe we were much better this weekend. It is a positive step as we get ready for our first home match."
Stotts led the Lady Govs with 16 kills and three blocks, finishing with a .220 attack percentage. White chipped in 10 kills while junior Aubrey Marsellis finished with 12 kills and a .360 attack percentage.
Austin Peay finished with 53 kills and posted a .201 attack percentage.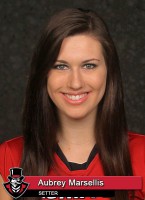 Junior April Adams was named to the all-tournament team after the match. She recorded 45 digs (4.09 per set) in three tournament matches while also recording three service aces.
Noelle Langenkamp paced the Hilltoppers with 15 kills while Rachel Engle (14 kills) and Heather Boyan (13) joined her in double-digit kill territory. WKU recorded 62 kills at a .290 attack percentage for the match.
Austin Peay now begins preparation for its home opener – a 6:00pm, Tuesday contest against Chattanooga at the Dunn Center.
Box Score
Austin Peay 1 vs Western Kentucky 3
| Set Scores | | 1 | 2 | 3 | 4 | Team Records |
| --- | --- | --- | --- | --- | --- | --- |
| Western Kentucky | (3) | 23 | 25 | 25 | 25 | 9-2 |
| Austin Peay | (1) | 25 | 21 | 21 | 18 | 3-8 |
Austin Peay (3-8)
| ## | Player | SP | K | E | TA | PCT | A | E | SA | SE | RE | DIG | BS | BA | Pts |
| --- | --- | --- | --- | --- | --- | --- | --- | --- | --- | --- | --- | --- | --- | --- | --- |
| 4 | EBRIGHT, Sammie | 4 | 8 | 0 | 18 | .444 | 0 | 0 | 0 | 0 | 0 | 2 | 0 | 1 | 8.5 |
| 6 | SLAY, Ashley | 4 | 2 | 3 | 16 | -.063 | 0 | 0 | 0 | 0 | 0 | 5 | 0 | 2 | 3.0 |
| 7 | MARSELLIS, Aubrey | 4 | 12 | 3 | 25 | .360 | 24 | 0 | 0 | 1 | 0 | 10 | 0 | 0 | 12.0 |
| 11 | WHITE, Christina | 4 | 10 | 7 | 34 | .088 | 1 | 0 | 2 | 0 | 3 | 9 | 0 | 0 | 12.0 |
| 14 | STOTTS, Jada | 4 | 16 | 7 | 41 | .220 | 0 | 0 | 0 | 0 | 0 | 9 | 1 | 2 | 18.0 |
| 15 | PLYBON, Hillary | 4 | 5 | 2 | 13 | .231 | 2 | 0 | 0 | 0 | 0 | 4 | 1 | 1 | 6.5 |
| 1 | FIELDS, Cami | 4 | 0 | 0 | 1 | .000 | 19 | 0 | 1 | 1 | 0 | 11 | 0 | 0 | 1.0 |
| 3 | ADAMS, April | 4 | 0 | 0 | 0 | .000 | 0 | 0 | 2 | 2 | 3 | 16 | 0 | 0 | 2.0 |
| 13 | LITCHFIELD, Syd | 1 | 0 | 1 | 1 | -1.000 | 0 | 0 | 0 | 0 | 0 | 0 | 0 | 0 | 0.0 |
| 17 | FERGUSON, Kelly | 1 | 0 | 0 | 0 | .000 | 0 | 0 | 0 | 0 | 0 | 1 | 0 | 0 | 0.0 |
| | Totals | 34 | 53 | 23 | 149 | .201 | 46 | 0 | 5 | 4 | 6 | 67 | 2 | 6 | 63.0 |
Team Attack By Set
Set
K
E
TA
Pct
1
15
4
40
.275
2
15
7
36
.222
3
15
5
36
.278
4
8
7
37
.027
Total Team Blocks: 5.0
LEADERS:
Kills-Aces-Blocks:STOTTS, Jada (16-0-3); MARSELLIS, Aubrey (12-0-0); WHITE, Christina (10-2-0); EBRIGHT, Sammie (8-0-1); PLYBON, Hillary (5-0-2); SLAY, Ashley (2-0-2)Assists:MARSELLIS, Aubrey (24); FIELDS, Cami (19); PLYBON, Hillary (2); WHITE, Christina (1)Digs: ADAMS, April (16); FIELDS, Cami (11); MARSELLIS, Aubrey (10); WHITE, Christina (9); STOTTS, Jada (9); SLAY, Ashley (5); PLYBON, Hillary (4); EBRIGHT, Sammie (2); FERGUSON, Kelly (1)
Western Kentucky (9-2)
| ## | Player | SP | K | E | TA | PCT | A | E | SA | SE | RE | DIG | BS | BA | Pts |
| --- | --- | --- | --- | --- | --- | --- | --- | --- | --- | --- | --- | --- | --- | --- | --- |
| 1 | LUCAS, Jessica | 4 | 7 | 3 | 18 | .222 | 46 | 0 | 2 | 1 | 0 | 8 | 0 | 2 | 10.0 |
| 3 | BOYAN, Heather | 4 | 13 | 1 | 28 | .429 | 0 | 0 | 0 | 0 | 0 | 0 | 1 | 0 | 14.0 |
| 7 | CAVANAUGH, Alyssa | 4 | 9 | 3 | 22 | .273 | 0 | 0 | 0 | 0 | 1 | 3 | 0 | 0 | 9.0 |
| 13 | LANGENKAMP, Noelle | 4 | 15 | 4 | 34 | .324 | 0 | 0 | 0 | 1 | 0 | 0 | 2 | 3 | 18.5 |
| 15 | ENGLE, Rachel | 4 | 14 | 4 | 42 | .238 | 1 | 0 | 3 | 1 | 1 | 13 | 0 | 1 | 17.5 |
| 16 | ENGLE, Sydney | 4 | 3 | 2 | 9 | .111 | 0 | 0 | 0 | 0 | 0 | 2 | 0 | 2 | 4.0 |
| 12 | O'CONNELL, Georgia | 4 | 1 | 0 | 1 | 1.000 | 4 | 0 | 1 | 2 | 0 | 20 | 0 | 0 | 2.0 |
| 17 | GRIMES, Kaelin | 4 | 0 | 0 | 0 | .000 | 1 | 0 | 0 | 1 | 1 | 11 | 0 | 0 | 0.0 |
| 19 | PAJAKOWSKI, Mollie | 3 | 0 | 0 | 1 | .000 | 2 | 0 | 0 | 1 | 0 | 5 | 0 | 0 | 0.0 |
| 24 | SCOTT, Jackie | 3 | 0 | 0 | 0 | .000 | 0 | 0 | 0 | 2 | 1 | 1 | 0 | 0 | 0.0 |
| TM | TEAM | 1 | 0 | 0 | 0 | .000 | 0 | 0 | 0 | 0 | 1 | 0 | 0 | 0 | 0.0 |
| | Totals | 39 | 62 | 17 | 155 | .290 | 54 | 0 | 6 | 9 | 5 | 63 | 3 | 8 | 75.0 |
Team Attack By Set
Set
K
E
TA
Pct
1
14
4
35
.286
2
13
3
33
.303
3
18
1
40
.425
4
17
9
47
.170
Total Team Blocks: 7.0
LEADERS:
Kills-Aces-Blocks: LANGENKAMP, Noelle (15-0-5); ENGLE, Rachel (14-3-1); BOYAN, Heather (13-0-1); CAVANAUGH, Alyssa (9-0-0); LUCAS, Jessica (7-2-2); ENGLE, Sydney (3-0-2); O'CONNELL, Georgia (1-1-0)Assists: LUCAS, Jessica (46); O'CONNELL, Georgia (4); PAJAKOWSKI, Mollie (2); ENGLE, Rachel (1); GRIMES, Kaelin (1)Digs: O'CONNELL, Georgia (20); ENGLE, Rachel (13); GRIMES, Kaelin (11); LUCAS, Jessica (8); PAJAKOWSKI, Mollie (5); CAVANAUGH, Alyssa (3); ENGLE, Sydney (2); SCOTT, Jackie (1)