Austin Peay Sports Information

Burlington, IA – The three Austin Peay State University men's golf freshmen saved their best for last in the final day of the Golfweek Conference Challenge, played at Spirit Hollow Golf Course. But it wasn't enough to help the Golf Govs escape ninth place.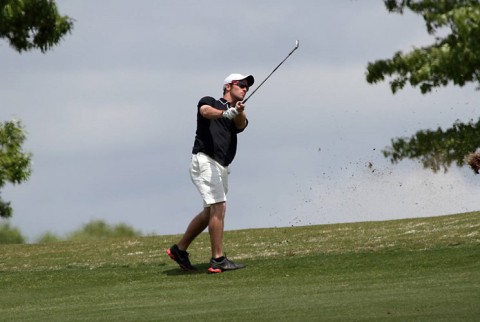 Jonas Vaisanen
(74),
Luis Navarrete
(75) and
Justin Arens
(76) all were counters, Tuesday afternoon, along with junior
Chris Baker
(73) as the Govs shot a final round 298—the Govs best overall round—to end at 900.
"We did a good job today of eliminating the doubles and triples," interim APSU coach Dustin Korte said. "From that aspect they did a great job. But there weren't a lot of birdies to be had.
"Yesterday, with the cooler weather, the wind and the rain, you don't think about getting a lot of birdies. But we were able to get a few today. Today, with the conditions almost perfect you think have a chance to get a few, but the pin placements made it extremely difficult. That's just golf."
The Govs had just eight birdies all day, four from Vaisanen in his final nine holes. He played that front size—his back nine—at 3-under 33. Baker had a trio of birdies to go with four bogeys to finish at 1-over 73 and a 13th-place tie at 221, the same score as fellow junior Austin Kramer. After playing his career's best golf the first two rounds, Kramer struggled to a 79, Tuesday.
As a result, Naverrete's 75 and Arens 76 were counters. Arens had the duo's only birdie on the day.
"There's a fine line of wanting and expecting to play well and putting too much pressure on yourselves to do it," Korte said. ""We learned a lot of from this tournament and the young guys are just going to get better."