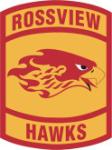 Clarksville, TN – Rossview High School's volleyball team ended its season-long four-match losing streak, September 25th, with a 3-0 District 10-AAA win over Kenwood High School by scores of 25-15, 25-12 and 25-19.
Big scoring runs would highlight the victory for the Lady Hawks, who even their overall record to 14-14 and 7-5 in District 10-AAA.
"We just needed to come out and play well and get some of our confidence back," Rossview coach Krystal Weber said. "So it's nice to get a win and head into the weekend and the final week of the regular season next week with a victory."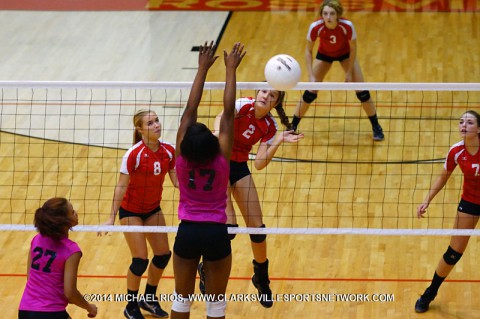 It would take a little while for the Lady Hawks to get going in the opening game, with the two teams going back-and-fourth with 10 lead changes and nine ties over the first 25 points scored between the two, with Rossview holding a one-point advantage, 13-12.
But Rossview would take control of the game with a 9-0 run, highlighted by four kills from Jessica Mattson, in taking a 22-12 lead.
Mattson would lead Rossview with 15 kills.
Kenwood would never get any closer than eight points the rest of the way in the opener, with the Lady Hawks winning by 10 points, 25-15.
Rossview would carry its momentum of taking the opening game into Game 2, with the Lady Hawks jumping out to a 15-6 advantage, led by of the middle blockers Katelyn Kane and Annie Black – who combined four five kills – along with three aces from Averi Greene.
Kane would finish with 10 kills and Black eight.
The Lady Knights would try to edge back into the match, scoring three straight points to get back to within six points, 15-9, but Rossview answered right back with a 7-1 run – including back-to-back kills by Keili Keoho – to extend its lead out to 21-10 on its way to a 25-12 Game 2 win and a 2-0 lead in the match.
"We're still focusing on our passing and serving, because those are the two areas where we need to make sure more consistent on," Weber said. "Each night in practice we work on our serve receive and we work on our serving because those are the two areas that seem to get us down.
"When we don't pass well we don't hit well because we're too far out of system to do anything with it."
The final game of the match was the most competitive between the two teams, with neither team leading by more than three points over the first 34 points scored between the two.
But much like the first two games, Rossview broke open a two-point lead, 18-16, with a 4-0 run behind two kills from Kane to extent its lead out to 22-16.
Kenwood tried to claw their way back into the match by scoring three of the next four points to make it 23-19, but the Lady Hawks closed out the match by scoring three of the final four points for the 25-19 win an a 3-0 sweep of the match.
Kenwood will return to action on September 29th, when they step out of district play by hosting Montgomery Central High School, while Rossview will travel to Northeast High School on September 30th.
Box Score
| | | | |
| --- | --- | --- | --- |
| | 1 | 2 | 3 |
| Rossview Lady Hawks | 25 | 25 | 25 |
| Kenwood Lady Knights | 15 | 12 | 19 |
Photo Gallery