Written by Sgt. Justin Moeller
5th Special Forces Group (Airborne) Public Affairs Office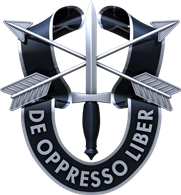 Fort Campbell, KY – On September 21st, 1961, 5th Special Forces Group (Airborne) officially activated at Fort Bragg, NC; a year later they were fighting in the Republic of Vietnam.
Since the Vietnam War, the 5th SFG (A) has had integral parts in Operation Desert Shield and Desert Storm, Operation Enduring Freedom as well as Operation Iraqi Freedom.
Bravery runs deep in the unit: they fly 20 campaign streamers and include 18 Medal of Honor recipients.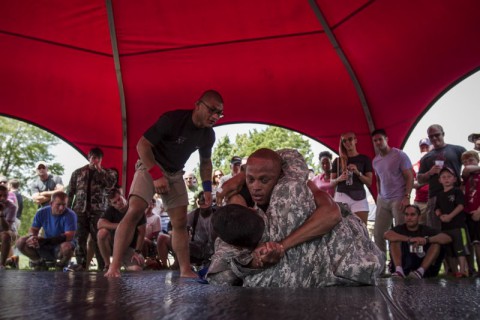 In remembrance of their storied lineage, Soldiers, families and veterans with the 5th SFG (A), celebrated the 53rd anniversary of the Legion's activation, September 18th-20th.
"When you think of 'reunion,'" Cunningham said, "you think of 'family,' and that's what this is for us – a family," said Mike Cunningham, president of the Special Forces Association Oak Grove Chapter 38, and former command sergeant major of the 5th SFG (A). "Sure, I can relate some to a regular Army guy, but after 24 years in 5th Group, when I want to talk, I have to talk to another 5th Group guy. You develop a bond you can never forget."
The three days were packed with events ranging from shooting competition, softball tournament, triathlon, tug of war, THOR 3 competition and Combatives tournament, as well as an airborne operation and a picnic; all of which help build camaraderie
"The retired guys who come back for the reunion to 'see the family' – a lot of those guys mentored today's leaders," said Parry Baer, also a former command sergeant major of the 5th SFG (A), who later moved on to be the command sergeant major for both U.S. Army Special Forces Command and U.S. Army Special Operations Command. "That's why there's such a strong connection. It continually builds upon the success of the organization."
"The legacy is what attracts the best to be a part of this," said (retired) Sgt. Gary Beikirch, Vietnam War Medal of Honor recipient and former 5th SFG (A) Soldier. "It made me want to be a part of it in 1967. And that's why these young soldiers are here; to be a part of it and to add to it."
The Legions success as a unit comes from the long hours of training and the sacrifices the families make for their loved ones during deployments.
"And if you look at the world situation today, this organization is not going to be sitting at Fort Campbell just training," said Baer, "they're going to be busy well into the future."
Having a job that can take you half way around the world in a moment's notice is demanding, and celebrating their unit's 53rd anniversary gives the Soldiers an opportunity to spend time with their families, their coworkers or to reminisce with veterans.
To conclude the reunion, the Legion hosted a picnic September 20th, where those who attended enjoyed barbeque provided by Rob Marion, featured on TLC's BBQ Pitmasters. The attendees also got to enjoy live music, static displays of military vehicles and weapon systems, and bouncy castles for the children.
The overall results of the competitions were announced with 4th Battalion, 5th SFG (A), winning this year's commanders cup, accumulating the most points from the competitions.
Photo Gallery