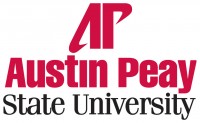 Clarksville, TN – Earlier this week, a crowd gathered along the edges of a red carpet running through the lobby of the Austin Peay State University Trahern Building. They held up smartphone cameras and leaned over each other, trying to get a better view.
The whole thing felt a bit like an old Hollywood movie premiere, and that feeling only increased when, at 1:00pm, the doors opened and the students in Frances Traughber's second grade class at Clarksville Academy shuffled down the carpet.
The students, a bit stunned by the applause, headed to building's Trahern Gallery to watch the premiere of short animated films they had helped create.
Earlier this semester, APSU students taking a Beginning Animation Class, taught by APSU art professor Kell Black, partnered with Traughber's class for the project.
"Her kids all wrote and illustrated variations of 'The Three Little Pigs,'" Black said. "We recorded the kids reading their stories, and then we took all those drawings and, through the magic of Photoshop and Flash, we extracted the drawings from the page and made them come alive."
Once the students took their seats inside the gallery, the lights went down and the minute-long cartoons appeared on the wall at the front of the room. The students' voices were heard over the speakers, narrating the action to stories with titles like "The Three Little Giraffes and the Big Bad Lion." Sitting in the dark, laughing along with the second graders, were several tired-looking APSU animation students.
"Each film is about a minute long, but it probably took 30 hours to animate," Black said. "Animation, except for raising kids, is the most time consuming thing you could hope to do. If one person had drawn all of the animation for Walt Disney's 'Snow White,' it would have taken him 60 years."
Amy Duncan, an APSU art student, said her project probably did take 30 hours to complete, and unlike other school projects, she felt added pressure to get it right for the Clarksville Academy student she was working with. The assignment also gave her ideas about other career fields once she graduates.
"I absolutely loved it," she said. "I think this class opened doors for us as artists to work with the community, and it just makes our work better. I'm an illustrator, I want to go into illustration, but taking this class has me thinking about animation in the future."
After the premiere, the audience was treated to a reception next to the red carpet. And Black informed the parents in attendance that they will receive a DVD featuring their child's film in the next few weeks.
For more information on this class, contact the APSU Department of Art at 931.221.7333.